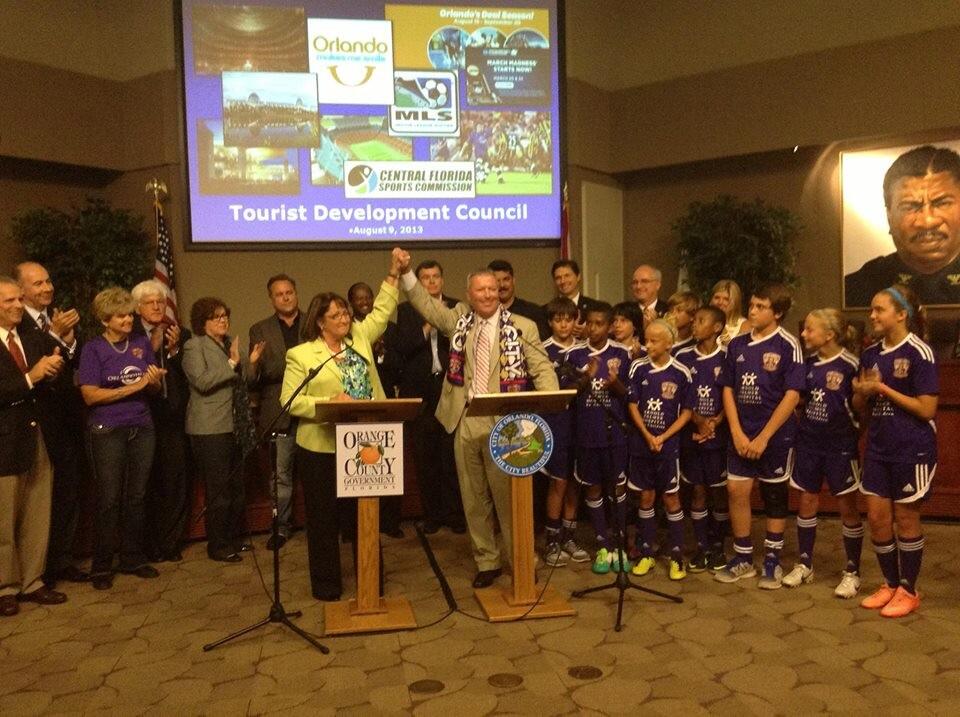 Photo source: City of Orlando Twitter
UPDATE August 9, 2013 6:00 pm: The Tourist Development Council approved the plan 8-0. The next step is for the plan to go to both city and county commissioners for a vote.
The City and County have agreed on a deal that would allow Orlando City Soccer to build a stadium downtown paving the way for Orlando to get an MLS team. The soccer stadium money is contingent upon the Orlando getting an MLS team.
The plan also calls for funding of the second phase for the Dr. Philips Performing Arts Center, more funding for citrus bowl improvements and tourism marketing dollars for the South American market and sports events.
All of the money comes from Orange County tourism development tax dollars.
The $94.5 million plan will be unveiled today but in a letter to county leaders here are the details Mayor Jacobs laid out:
$20 million for the soccer stadium (the team puts in $30 million, the remaining $35 million would come from city and county financing)
$25 million for the Dr. Phillips Performing Arts Center for the second phase. Still has a gap of $22 million for the second phase. Second phase would now be complete in 2018.
$25 million to Visit Orlando over five-years (in addition to $36 million allocated for this year)
$12 million to the Citrus Bowl for renovations (in addition to $191 million)
$10 million in convention-center improvements (in addition to $187 million already approved by the county)
$2.5 million Central Florida Sports Commission via Visit Orlando for marketing sports events
All of this will have to be voted on my the Board of County Commissioners. We'll let you know when that vote happens.
Here is a link to the letter Mayor Jacobs sent link to the letter Mayor Jacobs sent to Board of County Commissioners regarding the use of the Tourist Development Taxes.