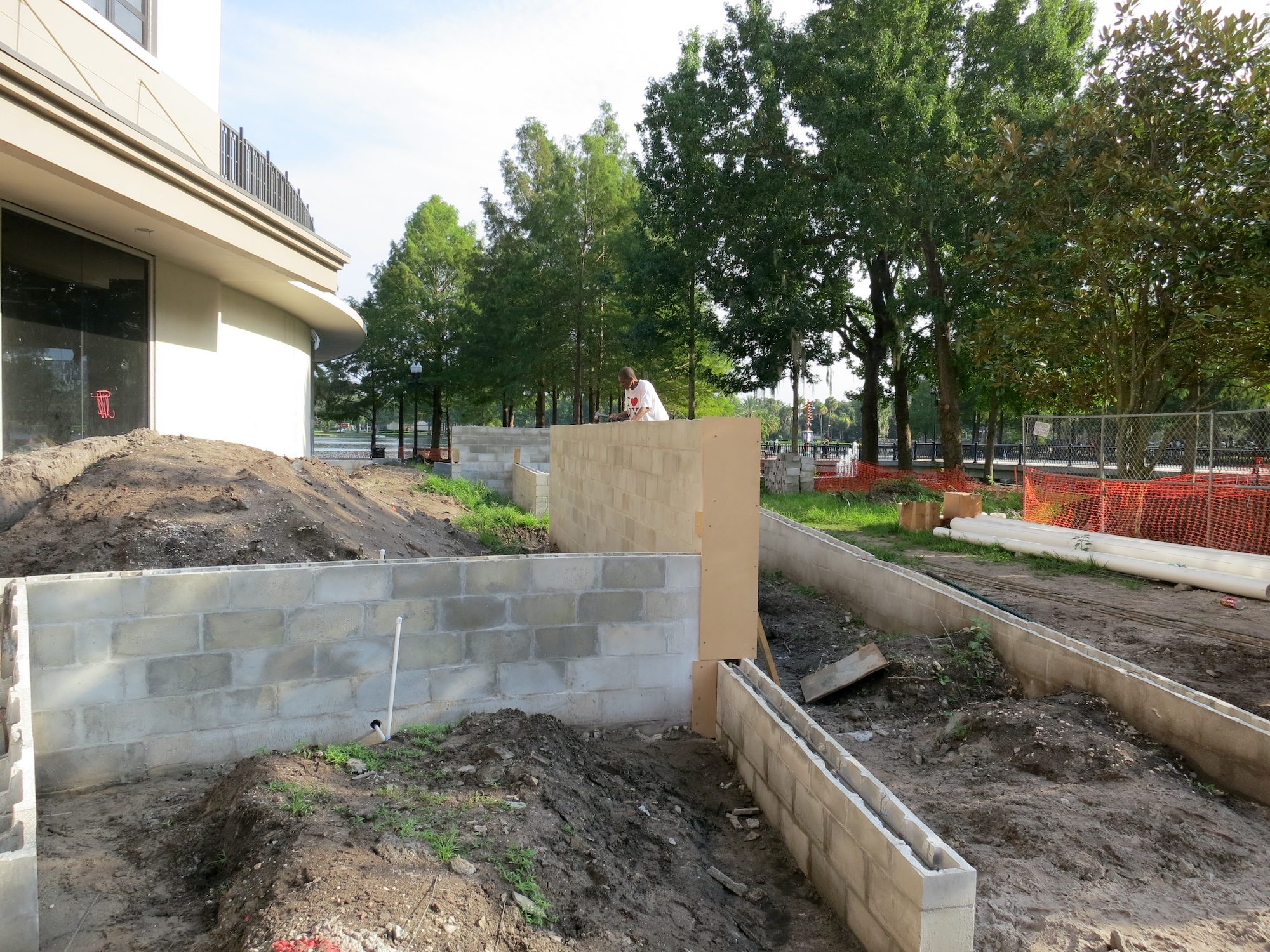 Workers on Monday lowering and shortening the wall (in progress).
Workers began taking down part of a wall this week that blocked the view of Lake Eola from Central Blvd. The wall is part of the patio for the World of Beer (Website | Facebook) that is expected to go into that space inside of the Post Parkside building. The problem was the wall would block the view of the lake from those passing by on Central Blvd.
The area will become an even bigger focal point after the City installs the See Art Orlando pieces. One of which is going into the roundabout next to the patio.
The wall is being shortened from 6 feet to 3 feet, the length is also being shortened to a total of 8 feet.
We spoke to Tom Popa one of the partners in the in the Orlando World of Beer franchise group. Popa told us:
It looks good on paper until you build it and you're like woah, that's not what we want. It's just one of those things that got missed…Why would you want to sit on a patio and have your beautiful lake view blocked by a wall.
Popa wasn't the only one who recognized the wall was too high.
Post Properties Commercial Project Manager William Gallagher told Bungalower thatPost Parkside and the City of Orlando both decided that the wall should be lowered after seeing it built.
"I saw the wall and didn't like it" Gallagher told Bungalower."
The patio is expected to be completed in the next 60 days. Popa tells us he pushing for a November or December 2013 opening for the World of Beer.
Aside from the patio slowing things down Popa also tells us that World of Beer has also been going though some changes. This includes adding more food items, which requires a full kitchen and also craft cocktails. Both of those changes he says meant some re-tweaking of the plans.
Once a set date is ironed out for the opening we'll be sure to post it on Bungalower.com
Original height of the Wall: