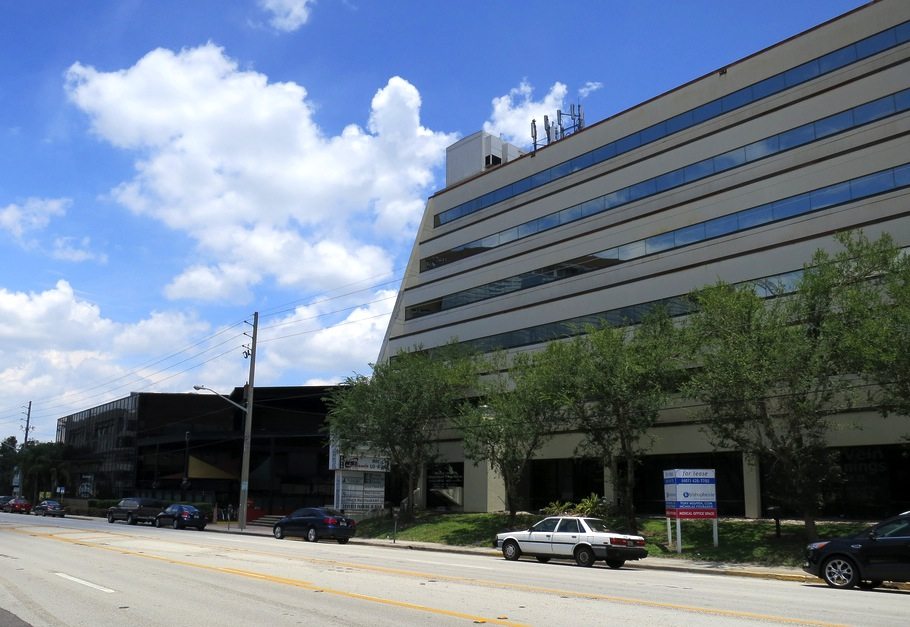 The city approved a new hotel to be built in Downtown South across from Orlando Regional Medical Center at 1405 S. Orange Ave. (btwn. Copeland Dr. & Fernwood St.).
The property that is currently Orlando Medical Plaza and includes Doc's Streetside Grille (Website | Facebook)  would add an 85 room hotel if the plan approved by the City Council this week goes forward.
According to documents filed with the Municipal Planning Board in July the developer has separated the project into two phases. Not because they plan to phase the project but because they don't currently control enough of the property as of the filing to make phase two happen. The developer acknowledged that it may never be able to build phase two.
The first phase is to build an eight story hotel in-between the two existing medial office buildings (1315 and 1405 S Orange Ave.). The would include a lobby on the third floor and sixty rooms on floors four through eight.
Phase two includes work on the northern building (1315 S Orange Ave.). They want to add 25 hotel rooms total to the second and third floors and add conference space to the second floor. They plan also calls for some changes to the exterior of the building.
We have also learned that there are discussion about a pedestrian bridge over Orange Ave. to connect the hotel to the hospital.
"We are in conversations with Dr. Winters about his plans to build a hotel and possible bridge that would connect to ORMC.  We are supportive of his hotel plans,"Karl Hodges VP of Business Development for Orlando Health told Bungalower via e-mail. "We are exploring  a mutually beneficial arrangement, but no commitments have been made to-date."
Here are some renderings of the project:
Updated August 28, 3:00 p.m. with information on the possible pedestrian bridge