Jernigan asks Bungalower about the Orange & Colonial Hotel that was approved downtown:
I put 2 and 2 together that this will likely be a Residence Inn – but either way, any timeline on demo of existing building (red one, not Mama B) would be exciting to hear.
Jernigan is correct back in May the Municipal Planning Board approved a new hotel to go in at the corner of Orange Ave and Colonial Dr. [GMap]. As he points out the hotel will go into the empty space along Colonial Dr and replace the existing office building on Orange Ave but will not be on the Mama B's property.
We also had heard that the Orange & Colonial Hotel would be a Residence Inn by Marriott in Downtown Orlando. We reached out to Craig Uster who is developing the hotel to ask for more details and again Jernigan is spot on:
Yes, 138 room Residence Inn by Marriott Hotel, breaking ground in the next month or two.  We are in for permitting and ready to get started.  It will take us about 14 months to build it so we are looking at late 2014 or early 2015 opening.  This is a good-looking urban mid-rise project that will be a nice addition to north downtown. There is a 4,000 SF restaurant planned for the ground floor.
The $21 million seven-story hotel will be quite a nice change for our northern gateway of Downtown Orlando. For the Orlando History folks we aren't aware of any plans to call the Residence Inn the Orange Court Motor Lodge.
We'll be sure to let you know once construction starts on the Residence Inn by Marriott at Orange and Colonial in Downtown Orlando.
Here's a look at the site layout. Keep in mind that the middle area is a parking garage and not a surface lot. The first four floors will be parking with a pool on top of part of the parking and the hotel on top of the rest of the parking structure. The 4,000 square feet of restaurant space that Ustler talks about would face Orange Ave.
And a view from the southwest:
And a view from the Northwest: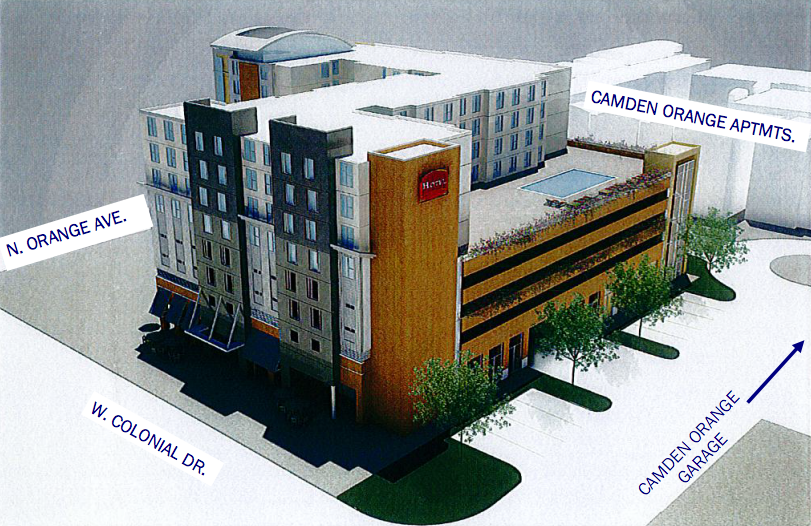 Have a question about something happening in the Bungalow Neighborhoods? Ask Bungalower.