We've been excited for quite some time about East End Market (Website | Facebook) opening in the Audubon Park Garden District.
We stopped in last week before their grand opening. On Friday when they will open the market located at 3201 Corrine Drive (at East End Ave.) [GMap].
We we're really impressed with the amount of adaptive reuse. Here are some of our favorite:A lot of the wood and other elements used throughout the building was comes from a barn that they purchased to salvage the wood for the project
---
At the Skye Bird Juice Bar the bar and the produce crates for shelving come from a pre-civil war era barn used to house troops that owners Devin and Krystal Edwards' Grandmother owned.

---
These doors are on the offices upstairs and are from Henry Flagler Railroad Headquarter in St. Augustine
---
And a door from Florida Victorian home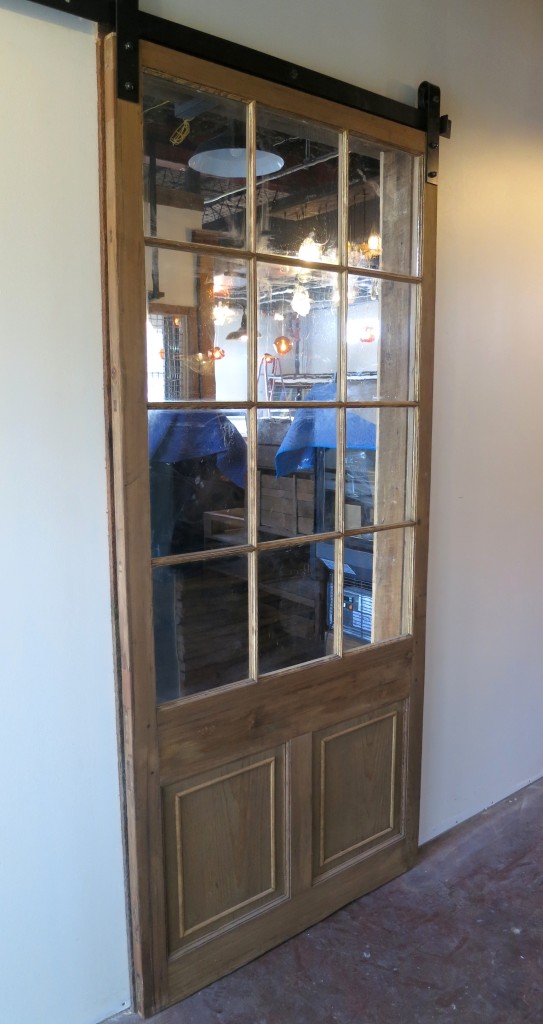 ---
East End Market will be a neighborhood market and food hub. The Market showcases some of Central Florida's top food entrepreneurs, tradespeople, artists, and chefs. The two-story structure will be home to a dozen merchants, a large event space, a demonstration kitchen, an incubator kitchen, offices, retail shops, a full-time, award-winning caterer and a restaurant.
The first floor hosts ten independently owned businesses offering local produce, meats, daily  baked bread, Italian prepared meals and sweets, Kombucha, organic juice, raw food specialties, artisan cheeses, savory soups and sauces, and more. Contiguous to the market hall is a farm-fresh restaurant, Txokos Basque Kitchen, a new culinary concept from the owners of Spanish River Grill.
The property is landscaped with Florida-friendly varietals, as well as home to a working market garden.
The current lineup of merchants include:
Cuisiniers Catered Cuisine & Events (chef-driven cuisine and warm hospitality)
Fatto in Casa (wholesome, high quality ingredients, prepared food & Italian Specialties)
Houndstooth Sauce Company (Red & White BBQ Sauces, marinades, dressings, glazes, dipping sauces, rubs, soups, sandwiches, salads & apparel)
La Femme du Fromage (hand crafted, artisan cheeses from around the world)
Local Roots Farm Store (local produce, artisan foods and craft beer)
Olde Hearth Bread (breads and pastries)
Skyebird Juice Bar and Experimental Kitchen (local and organic juices, smoothies, kombucha and full raw food menu)