Here's a look at the top projects we are looking forward to in 2014. We've broken them down into four categories; transportation, buildings, venues, districts. Take a look and let us know in the comments which one you are looking forward to.
Transportation
The backbone of any great city is access to public transportation. In 2014 Orlando will make some great strides in this area.
Lymmo Expansion
In 2014 Lymmo will grow from one line to three. The addition of an east/west line running up and down Central Blvd and Church St will really help connect most of the core downtown area to Lymmo. The Amway to Creative Village line will help connect FAMU Law, UCF Center For Emerging Media and the future Creative Village to downtown. We also anticipate more Lymmo announcements next year that will make this free downtown bus key to the growth of the Bungalow area. Click here for our coverage of the Lymmo expansion >>
SunRail
Even though SunRail won't run on the weekends or late at night, it will have a huge impact on transportation in the area. With an expected launch this May SunRail will allow suburban residents to use public transportation to get downtown for work. Click here for our coverage of SunRail >>
Bike Share
Bike Share will allow residents and visitors to rend bikes on demand from various locations around downtown. The program has seen success in many other cities and will be a welcome addition to our more transit focused Orlando. Click here for our coverage of Orlando's Bike Share >>
I-4 Construction / Expansion
It's obvious that adding lanes to I-4 will have an impact to Orlando transportation especially two toll lanes. But the other impact will be the construction. I-4 traffic is going to get worse before it gets better. The timing of the construction starting in 2014 could provide a great opportunity to convince commuters from north and south Orlando to take SunRail instead of their car.
Buildings
Empty lots and single story buildings comprise some pats of our downtown. We've seen great development in 2013 and that will continue into 2014.
The Sevens Building in North Quarter

The Sevens, a nine-story mixed-use building project at 777 N Orange Ave in the uptown/north quarter area, is scheduled to break ground in the spring with an eventual opening in the fall of 2015. Click here for our coverage of The Sevens >>
New Apartment Building in Thornton Park District
While a new apartment building doesn't sound that exciting this is the first real development in the Thornton Park area in quite some time. There are clearly gaps in the Thornton Park/South Eola area where condos were once planned. The signs for some of the condos still stand. This project, if it gets off the ground, would help to fill in one of those empty lots and maybe other development will follow. Click here for our coverage of the new Thornton Park apartment >>
Central Station a New Transit-Oriented Development Next To Lynx & SunRail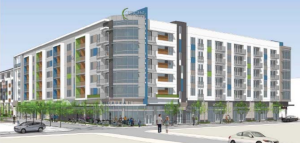 Drive down Orange Ave in downtown and there aren't many vacant lots, but there is one vacant block and that's across from the county Court House and Lynx Central Station. The new Central station development will fill the vacant lot with residential, hotel, office and retail. While the plans for Central Station aren't as grand as some of the original plans, the transit-oriented development will help to bring more life to an area of downtown that needs it. Click here to read our coverage of the new Central Station complex >>
Residence Inn at Orange and Colonial in Downtown Orlando
It's not often we get a new hotel downtown we got one in 2013 and in 2014 work will begin on a Residence Inn at Orange and Colonial. Click here to learn more about the Residence Inn in Downtown Orlando >>
Magic Complex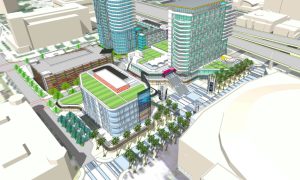 The new Magic Complex will help bring more life into the Amway area. The complex will include retail, offices and a hotel. Rendering of the new complex were released but we don't have any detail yet on what will be built when and who will occupy the space (outside of the Magic corporate offices). The type of development can have a major impact on downtown if done right. Click here to read our coverage of the new Magic entertainment complex >>
Venues
2014 promises to be a great year for venues in Orlando. The new performing arts center will open, Citrus Bowl reconstruction begins and a new soccer stadium will be built.
Dr. Phillips Center for Performing Arts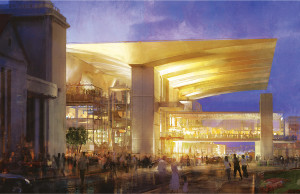 The Dr. Phillips Center for Performing Arts is set to open in the Fall of 2014. The first phase of the 330,000 square foot building will include two of the three main theaters, an outdoor plaza and performance space, an event space above Magnolia Ave, the main lobby, backstage area and classroom space. Click here for our coverage, including a photo tour, of the Dr. Phillips Center for Performing Arts >>
Florida Citrus Bowl Reconstruction
Demolition of the Florida Citrus Bowl Stadium will begin soon. The Florida Citrus Bowl Stadium reconstruction will cost just under $200 million and will be approximately 80% new. Click here for our coverage of the Citrus Bowl reconstruction >>
Soccer Stadium
Construction on the soccer stadium is expected to begin in 2014 and will be completed in 2015. The new soccer stadium will be the home to Orlando City Soccer Club, Orlando's second major league team. From an impact on downtown standpoint there won't be any more parking added for the soccer stadium and soccer fans are already more likely to spend time downtown before and after a game. Click here for our coverage of Orlando City Soccer and the new soccer stadium in Orlando >>
New Districts
The idea behind Bungalower is covering the great Bungalow districts in the Downtown Orlando area. In 2014 we expect to see coverage in two new districts.
Health Village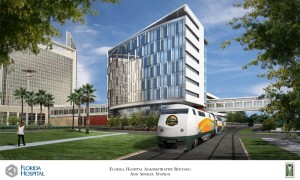 Florida Hospital has committed to developing Health Village as a mixed use planned development to surround their Orlando campus. The development is already making progress with their first mixed use building with almost 100% full from a retail perspective, the second one on the way and a new apartment complex opening in 2014. We expect more Health Village announcements and ground breakings in 2014. Click here to read our coverage of Health Village >>
North Quarter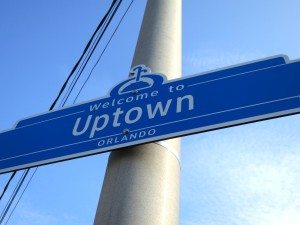 In the Uptown part of Downtown Orlando we are seeing concentrated development. The various developers in the area are calling it the North Quarter (running north/south along Orange Ave and Magnolia Ave north of Colonial Drive and south of Ivanhoe Blvd). This year we saw the opening of SteelHouse an addition to the offices that exist in the area along with two other apartment complexes. In 2014 we'll see NORA (North Orange Residential Apartments) open with ground floor retail and The Sevens will break ground which will include even more retail. Add that to the existing restaurants in 821 N Orange and the area will be pretty dynamic. All they are missing is a Lymmo stop. Click here to read our Uptown/North Quarter Coverage >>
Creative Village
Creative Village Project is planned for the area where the old Amway Arena was. The project has the opportunity to reshape not only that area of downtown but Downtown Orlando as a whole. At this point no building announcements have been made or specific plans reviled but we expect and hope that sometime in 2014 for more specifics to be announced.