Update February 3, 2014: As of January 27 parking is no longer allowed in this area.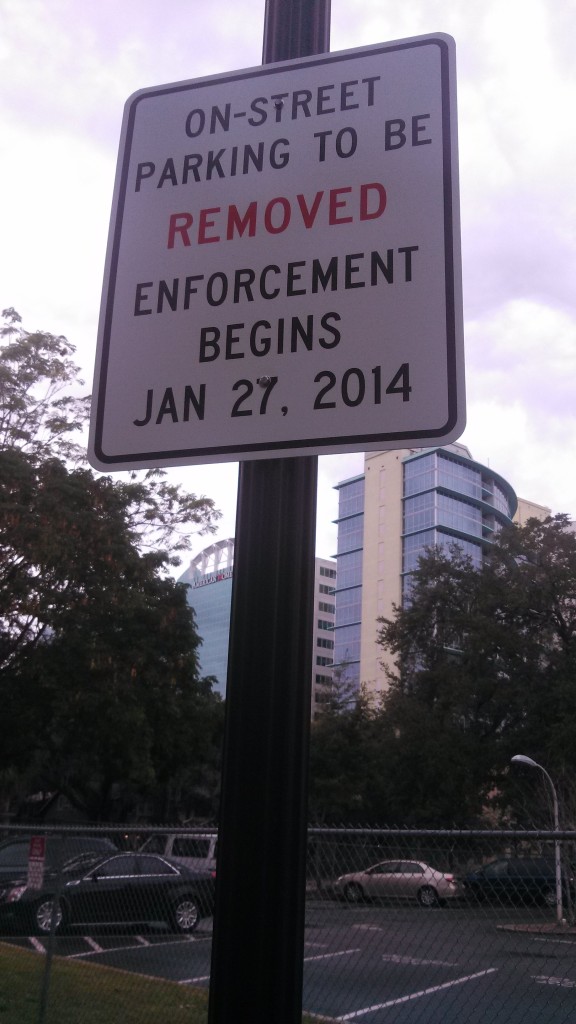 Photo courtesy Bungalower reader AndyPok1.
Bungalower has learned that there will be some modifications to downtown street parking to make way for the new East/West Grapefruit Lymmo line.
The biggest impact to parking will be the spaces on Church Street between Lake Ave and Eola Ave. The 20 parking spaces along this stretch of the road will be eliminated to make room for safe travel of the Lymmo bus.
On-street parking will remain on church east of Eola Drive and west of Lake Drive.
"Because the function of Church street in this area is changing as the LYMMO route will now travel down it and it will be more of a through street, the on-street parking between Lake and Eola Drive will go away to ensure the operation of the bus system is not blocked," Cassandra Lafser a spokesperson for the City of Orlando told Bungalower.
Other street parking impacts include four spots removed at Rosalind Ave and Church St to make room for a stop and six spots removed between Church St and Magnolia Ave to relocate a freight zone to make room for the bus lane. Those changes have already happened.
The new Lymmo line is expected to carry about 4,500 people and will begin operation this summer.
If you  do the math on the loss of parking spaces and assume each space is rotated every two hours (currently no limit on most of those spaces), there are two people on average per car (probably closer to one) and every spot is always occupied (which it's not), the parking spaces only serve 720 people (and that's probably on the high end).
The new line will be an extension of the existing free bus route downtown. The new Grapefruit (Red) Line runs  between Westmoreland Dr. and Summerlin Ave. The buses will head east on Central Blvd and west on Church and South Streets [Map].
You can read Bungalower's previous coverage of the new Lymmo line here. Including a photo tour of the construction.