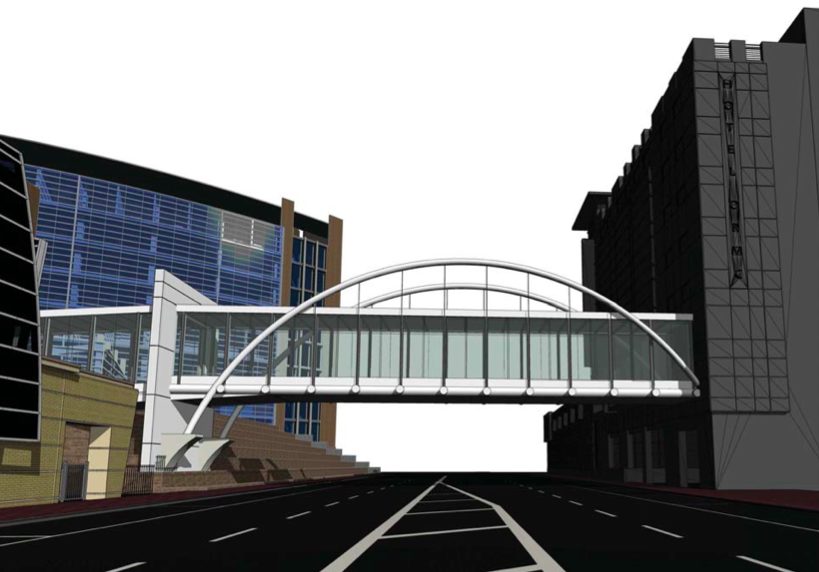 When we told you about the new Orlando Medical Plaza hotel being planned in Downtown South across from ORMC we mentioned that there were conversations about adding a pedestrian bridge across Orange Ave.
We are now getting a first look at what the bridge might look like in new documents filed by Orlando Health with the City of Orlando.
The bridge connects ORMC to the proposed hotel on the east side of Orange Ave.
"The proposed bridge will allow cancer patients a safe and direct access from the hotel into the hospital. It is a life-safety necessity for the intended users, and will be accessible only from within ORMC and the hotel. It will not serve or give access to the general public or from the sidewalk," the documents read.
The bridge will not have any ground-floor access nor will it be open to the general public.
The plans indicate that it won't obstruct the sidewalk on either side of Orange Ave nor impede sight lines to the traffic signal at Copeland Dr. or to the downtown skyline.
On the east side, the bridge will directly connect into the future Orlando Medical Plaza hotel. On the west side, the bridge will enter into the ORMC building and the bases of the support arches will be within the first level of the terraced landscaped feature, five feet beyond the edge of sidewalk/ROW.
The city approved the new hotel to be built at 1405 S. Orange Ave August.
The plan to allow the hotel and hospital to build a pedestrian bridge will go for approval from the Municipal Planning Board next week and if approved to City Council.
Updated 7:20 a.m. with additional information to clarify the bridge design and that the developers are seeking permission to build the bridge not for funding.