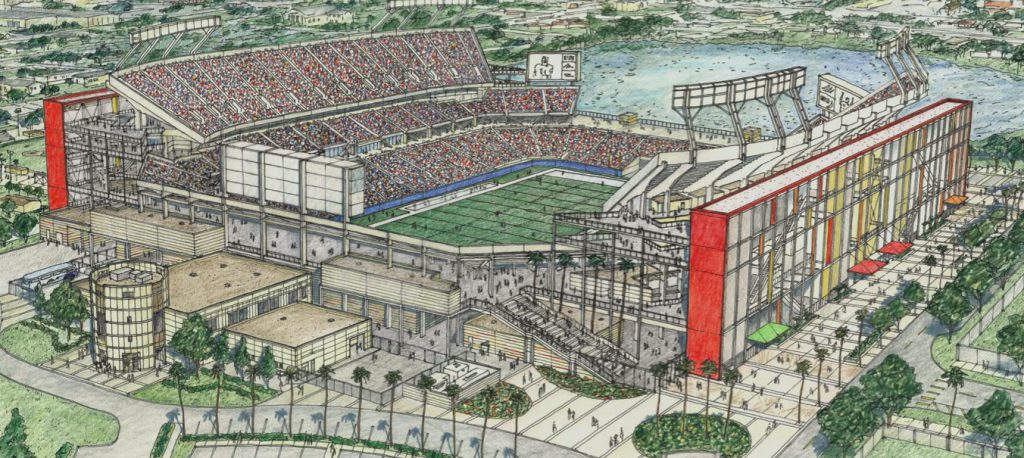 We've been telling you about the upcoming demolition of the Florida Citrus Bowl Stadium to make way for the stadium's reconstruction and that demolition begins today.
Most of the citrus bowl will be demolished with the exception of the 300 level seats.
The demolition work will take approximately 45 days. After that the new seating bowl construction will begin in March followed by new facility construction in Spring.
The estimated final completion is April 2015 but the venue will be back open for specific events later this year.
The Florida Citrus Bowl Stadium reconstruction will cost just under $200 million and will be approximately 80% new.
"Among the reconstruction highlights will be a new exterior look and entry points, 360-degree main concourse, lower bowl seating, club level seating, fan decks, suites, video displays, vertical transportation along with enhanced team facilities and operations areas," Allen Johnson, Executive Director of Orlando Venues told Bungalower back in December.
The final stadium will have 56,000 seats with an ability to increase to 65,000 seats with temporary seating.
The goal is to keep the Florida Citrus Bowl Stadium competitive with other football stadiums across the country to continue to host the existing game and events but also increase the amount and size of events.
The Venues team is working so that there is little to no interruption from a scheduling stand point of the key annual events that take place in the Citrus Bowl.
"We have an extremely tight construction window but we're anticipating 95% completion by mid-November 2014, just in time for next year's Florida Classic," Johnson said.
As part of the reconstruction Tinker Field will also be demolished and moved to where McCracken Field is.
New renderings of the concession and club areas were provided as part of a presentation to City Hall this past Monday.
Here's a look at some of the current renderings for the reconstruction including seating plans (click on image to open larger image):