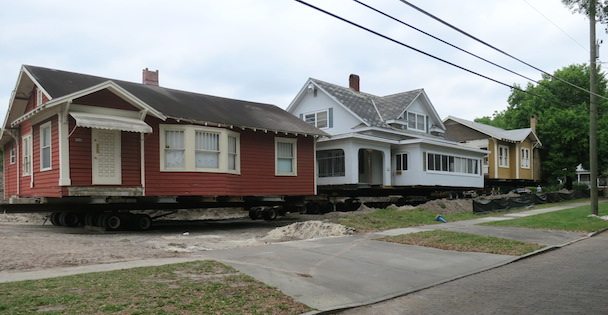 Workers spend the past week moving some bungalow homes on Ruth St in the Lake Eola Heights Neighborhood.
The Trinity Lutheran Church and School (Website | Facebook) finished moving three 1920's homes to the other side of the block this week [GMap].
The homes are being moved to make room for a Child Development Center for children from 6 weeks to 4-year-old Pre-K.
"In order to locate the building optimally on our campus, we will move three 1920's homes further north on Ruth Lane to the three corner lots, moving our soccer field to the west, and demolishing a 1940 two-story duplex that stands at the west end of the field on Amelia Street," Rev. Dr. Jeffery C. Moore, Senior Pastor at the church told Bungalower.
The new 28,000 square foot building will be mostly one story, but the north-east quarter will be two-story, with space for congregational and community use upstairs.
The front and north corner of the building are designed to look like four individual historic homes, using design elements gathered from all over the Lake Eola Heights Historic Neighborhood.
The relocated homes will be renovated and converted back into residences.
"The current plan is to bring in a group from our national church body called "Laborers for Christ" to do most of the renovation," Rev Dr. Moore said.
Prior to their relocation the homes were being used mostly as classrooms.
The new building is expected to be complete sometime next year.
Here's a look at a rendering of the new facility, the homes that are being moved and their prior location which is where the new building will go: