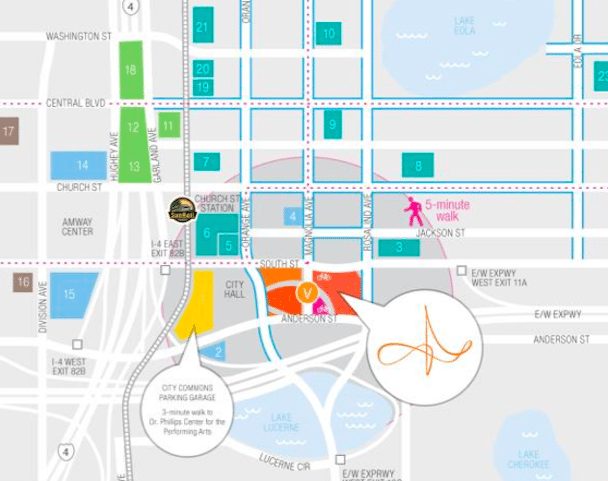 City Transportation Engineer Charles Ramdatt gave City Council members an overview of what the City along with the Dr. Phillips Center plan to do to get people to and from the new performing arts center.
Self-Parking
The main parking component is to have patrons park at the City Commons Garage with overflow parking available at the County Administration Garage.
The City Commons Garage provides 2,219 spaces. Based on the City of Orlando estimates, with the Disney Theater at capacity (2,700 guests) and Pugh Theater at capacity (300 guests) that will bring in 1080 vehicles 75% of which would be self-park. Those 810 cars would easily fit into the City Commons Garage.
Ramdatt said that even during an Amway event there are still 1,200 spaces available in the City Commons garage.
The City Commons Garage is jointly owned by the City of Orlando and CNL.
The City Commons Garage is located on Boone Ave between Anderson St and South St. It provides easy access from I-4, 408 and Orange Ave.
Guests will be able to take the bridge from the garage to the CNL building and then take an escalator down to the CNL lobby which puts them at Anderson St & Orange Ave.
That intersection is directly across from the CNL Arts Plaza at the Dr. Phillips Center.
The intersection will be redone to create an enhanced pedestrian experience.
There will also be a marked ADA route.
As guests are waking from the garage to the center, Ramdatt says there will be street performers to let people know they are on the correct path.
There will also be O-Cartz to take guest from the garage to the Dr. Phillips Center.
Parking at the City Commons Garage will be $10. You can pre-pay to guarantee a spot.
There are also over 1,500 parking spaces available at the SunTrust and Lincoln Plaza garage. Both are currently priced at $10.
Valet
Ramdatt says they estimate that 25% of the guests will use valet parking.
Valet will range from $20 to $25 if you pay at the curb and $15-17 if you pre-pay.
There will be three valet options:
Standard Valet
Premium Valet (where you vehicle is parked along Magnolia Ave just south of Anderson St)
Handicap Discount Valet ($10)
He told the council members that short wait times are critical to the success of the valet service. DPC will contact with a valet operator who would bring in 50 people to assist with valet parking.
Guests wishing to valet park can enter Magnolia Ave from either the north or south. Magnolia Ave will be closed to through traffic during performances.
The valet company will park vehicles in nearby private parking lots that DPC is working to lease. Premium valet parking will make use of 30 metered spots on Magnolia Ave that DPC would rent from the City.
Signage
Ramdatt discussed the plans to update downtown and I-4 signage to help guide guest so the Dr. Phillips Center and appropriate parking options.
There will be 25 new bibs placed on the existing downtown way-finding signs to direct people to the Dr. Phillips Center.
Existing "Bob Carr PAC" signs will be replaced with either "B. Carr Theater" or "Bob Carr Theater" to avoid confusion.
Signs will also be placed on I-4, but will be removed when the Ultimate I-4 project happens. Ramdatt said they are working with FDOT during the project to make sure that there is always proper signage to DPC.
Additionally there will be temporary A-frame signs placed to guide guests to the valet drop-off.
Public Transit
Guests will also be able to take Lymmo as a free shuttle to get to and from the DPC.
Both the new East/West Lymmo (Grapefruit-Red) and the existing Orange Lymmo have a stop at the corner of Magnolia Ave and South St.
This allows guests to park just about anywhere downtown and get quick access to the Dr. Phillips Center.
There is also a SunRail stop nearby but SunRail's current schedule won't be very conducive for get to and from DPC events.
The new Dr. Phillips Center for the Performing Arts will hold their grand opening in November and get started with the Broadway Across America Series in December.
Here's a look at the parking maps and signage (click for larger image):