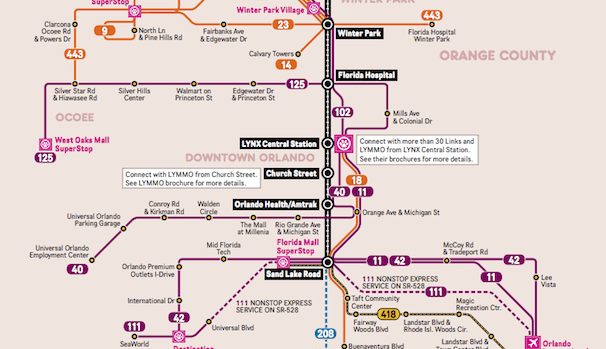 When Lynx makes their next set of changes to their bus routes next week there will be a new way for riders to find their route.
Lynx is introducing new location based maps.
Previously, you would have to pick up a map based on the route your were looking for information on or try to understand the complete Lynx map that covers the entire region.
The new maps let you pick a location and see all of the routes that service that area.
For example previously if you were downtown looking to get to Winter Park Village you would have had to know that the 17-92 and the 102 connect. Once you figured that out you would need to find the map for the 102 and the 17-92 to figure out which one was a better option.
"If you are in or are going to a specific area you might have to carry five or six maps," Matt Friedman a spokesperson for Lynx told Bungalower.
Now you can just get the Winter Park Village Map to see what your options are.
The printed maps are going from 85 different route based maps to 22 location based or service based maps.
Two service based additions are a Lymmo map which shows the two Lymmo routes and a SunRail Connections map which shows the bus routes that connect at the SunRail stops.
If you look at the maps theres also a major design change. The new maps resemble the look and feel of public transit maps across the country.
"The maps are more easier to use, a lot more friendly, and a lot more modern," Friedman said.
Some of the added features on the map include route based color coding that tells you how often the route operates, easy to understand headways instead of a full schedule and updated points of interest.
Riders can still access route specific information on the website and you can always use Google Maps Transit to search for the best route.
The Lynx website will also be undergoing some changes later this summer to help riders get to the information they are looking.
Here are links to the new brochures: