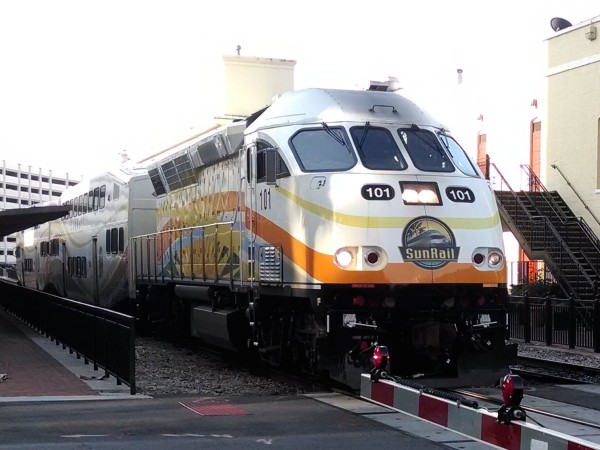 When SunRail begins charging users for rides in May they will be offering free transfers to Lynx but that won't be much help to commuters who were planning to purchase a monthly pass if their commute includes both Lynx and SunRail.
For commuters using both systems and crossing one county they will have to spend $130 a month between the two systems.
The free transfers work great if you are always transferring from one system to the other in the same order. For example if you always ride SunRail to connect with Lynx then you can purchase a SunRail pass and get free transfers with Lynx.
The issue is that scenario is unlikely.
Most people have a reverse commute that is just that, the reverse. So if in the morning you take SunRail first and transfer to Lynx then in the afternoon you'll take Lynx and transfer to SunRail. If you purchase a SunRail monthly pass you won't be able to get on Lynx in the afternoon because it's not a transfer. If you purchased a Lynx monthly pass you won't be able to get on SunRail in the morning for the same reason.
This leaves commuters using both systems with two options; purchase both a SunRail and Lynx monthly pass or pay full fare using a stored value card.
It ends up being less expensive to put money on a SunRail stored value card (which can be used on Lynx and SunRail) and pay full fare than purchasing both monthly passes.
Here's a breakdown that the SunRail team provided to Bungalower for the cost of both options.
| | | | | | |
| --- | --- | --- | --- | --- | --- |
| Number of Zones/Counties Traveled | SunRailMonthly Pass | LYNX 30 Day Pass | Total for Passes | Stored Value Used* | Stored Value 10% Bonus Added |
| 1 | $56 | $50 | $104 | $87 | $8.70 |
| 2 | $84 | $50 | $134 | $130 | $13.00 |
| 3 | $112 | $50 | $162 | $173 | $17.30 |
*assumes SunRail one-way of $2 (1 zone), $3 (2 zones), $4 (3 zones); free transfer (1 zone), $1 transfer upcharge (2 zones), $2 transfer upcharge (3 zones) from LYNX to SunRail; LYNX single ride fare of $2, free transfer from SunRail to LYNX; daily round-trip commute, 5 days per week,  52 weeks a year/12 months = 4.33 weeks per month average. SOURCE: FDOT
The 10% bonus makes it more cost-effective to purchase a stored value card in all scenarios.
Other systems across the country offer regional passes to deal with this scenario. This includes South Florida's Tri-Rail commuter rail and Miami-Dade Transit which offers a regional monthly pass at just under 1.5x the cost of one pass.
Both Lynx and the Florida Department of Transportation acknowledge that there won't be a regional pass at launch but neither group is opposed to working out a solution down the road.
"A universal regional pass is not included in this phase of implementation but is something that may be considered in the future," Jessica Keane a spokesperson for FDOT told Bungalower.
Lynx CEO John Lewis told Bungalower that the this is just their first foray into using the stored value cards.
"We'll hopefully get to a functional regional pass in phase two…of the fare collection system," he said.
Most of the other systems that have regional passes implemented them well after the launch of their service.