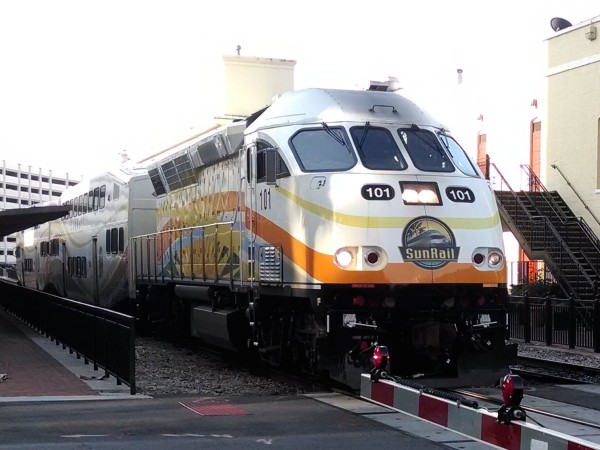 SunRail starts running on Thursday with free service for the first two weeks. We'll be covering the launch of Orlando's first commuter rail with a series of stories on Riding SunRail.
On Wednesday FDOT and City officials will host a Grand Opening Celebration at all of the stations along the route.
The celebration starts at the DeBary Station at 8:15 a.m. and then makes its way south through downtown concluding at 11:00 a.m. at the Sand Lake Station.
Here are the celebration times for the Bungalower area stations:
Florida Hospital Health Village
500 East Rollins Street (Lynx 125, 102) Begins at 9:30am
LYNX Central
101 West Livingston Street (Free Lymmo) Begins at 10:00am
Church Street
99 West South Street (Free Lymmo) Begins at 10:30am
Orlando Health/Amtrak
250 Columbia Street (Lynx 40) Begins at 10:45am
Here's the FDOT press release regarding the grand opening celebrations:
SunRail, Central Florida's new commuter rail system, will host a Grand Opening Celebration on April 30 in advance of passenger service, which begins on May 1, 2014. The historic Grand Opening Celebration will be held at Orange County's Sand Lake Road Station from 11 am – 1 pm and will be preceded by individual station opening events heralding the arrival of SunRail.
The celebrations will feature the community and its leaders, joined by representatives from the Florida Department of Transportation and the Federal Transit Administration in a very special celebration to usher in the new commuter rail service.
Guests are encouraged to visit their local station and also celebrate at the Sand Lake Road Station. Most stations feature free parking that will be available on a first come, first serve basis.