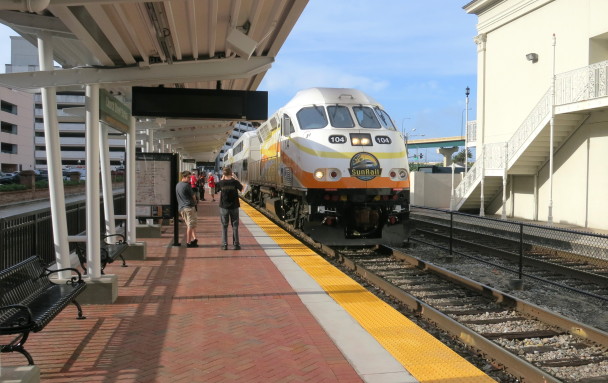 The first day of SunRail service yesterday allowed passengers to test out the commuter rail service for free. Free service will continue for the until May 16.
A spokesperson for the Florida Department of Transportation said passenger demands exceeded expectation.
According to the Sentinel the service saw over 10,000 passengers yesterday, more than double what is expected during regular service.
"The morning commute saw full trains used mainly by commuters, and arriving on schedule. Free service also saw the use by riders for leisure/day trips; riding from DeBary to Sand Lake Road and back again, which created crowding on the off-peak trains in the latter morning and early afternoon hours," FDOT spokesperson Steve Olsen said in a written statement.
Passengers reported on social media that because of the demand they were left waiting on the platform.
"Some trains were filled to capacity—which made for some delayed runs and passengers waiting at platforms. Some passengers were evidentially unaware of published schedule times showing that off-peak could be as long as two hours between trains at the stations," Olsen said.
Olsen says that  these issues were due to the "novelty of the first day, and because the service is free".
They are urging riders to check schedules and make certain they understand the difference peak and off-peak times.
"We look forward to day two of SunRail service," he added.