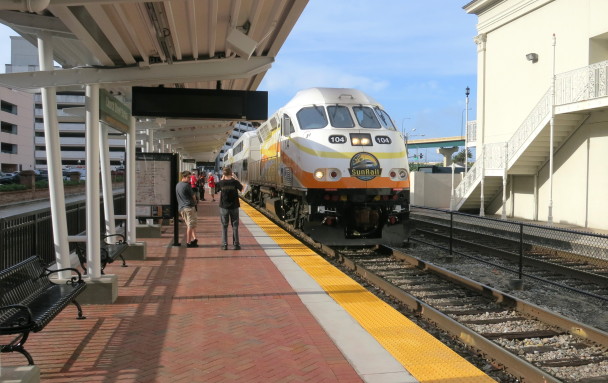 There have been some hiccups in the first week of SunRail's free service but ridership has remind steady and high.
Here's the breakdown of SunRail ridership for the first week as provided by the Florida Department of Transportation:
Thursday, May 1:  10,819
Friday, May 2:  10,496
Monday, May 5:  8,586
Tuesday, May 6:  9,761
Wednesday, May 7: 10,437
Trains are consistently full especially during the midday off-peak trains, which run every two hours. FDOT tells Bungalower that to meet the demand they are putting into service and are running some trains with three passenger cars instead of two.
A press release from FDOT stated "at times approaching more than 700 people, spread out among three cars, on one train."
The statement notes that work is "progressing" to meet the May 19 goal for revenue service.
"The team is currently testing some back-of-the-office matters to make sure the system works flawlessly. Once this is done, the website is set to go live, as will the ticket vending machines."
We'll keep you posted on their progress.
What has your SunRail experience been like?