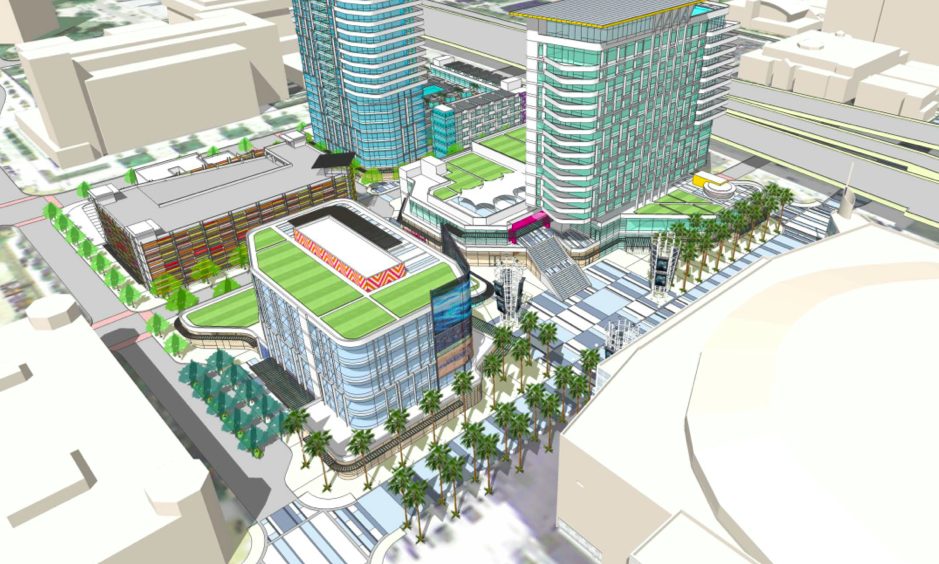 UPDATE June 23 2014: Plan passed City Council and we've provided updated renderings of the district here.
UPDATE May 20, 2014: Plan passed Municipal Planning Board, heads to City Council
In January we told you about the Sports and Entertainment District that the Orlando Magic plan to build next to the Amway Center.
The property  is bordered by Central Blvd to the north, Church St. to the south, Hughey Ave. to the east and Division Ave. to the west [GMap].
In November the Orlando City Council voted to sell the land, which currently houses the Orlando Police Department Headquarters and Church Street Garage, to the Sports and Entertainment District development company which is a subsidiary of the Orlando Magic.
The project includes parking, office space, mixed-use retail, a hotel with an expo center and an entertainment plaza.
Phase one of the project is scheduled to begin this year and includes the buildings on the western portion of the property (currently houses a Church Street Garage, the OPD radio tower and some OPD service buildings).
The first part of phase one will be to build a new parking garage of 732 spaces in the northwest portion of the property. This garage will be just south of the Orlando Union Rescue Mission property. Of those 731 spaces, 189 of them will be underground extending under the new office building.
Also part of phase one is the construction of a six-story mixed-use office building. This building will include 121,800 square feet of office space and 42,400 square feet of retail. This building would be on the southwest portion of the property which currently houses the Church Street Garage. The retail will be along Division Ave, Church St and the Festival Plaza. On the building are large media screens which face toward the Amway Center and I-4.
This phase also includes the creation of Festival Plaza which will face the Amway Center and includes two open or enclosed kiosks. One of which is labeled as a "sports broadcast booth" the other an "open-air retail pavilion." Also included in the Festival Plaza are three 68 foot media towers with large screens.
Additionally they will be building out Bryan Ave and the western portion of Pine St.
Phase one is scheduled to be complete by 2016 (provided the demolition work of the garage is completed on schedule).
Here are the new Phase 1 elevations and site plan (click for larger image):