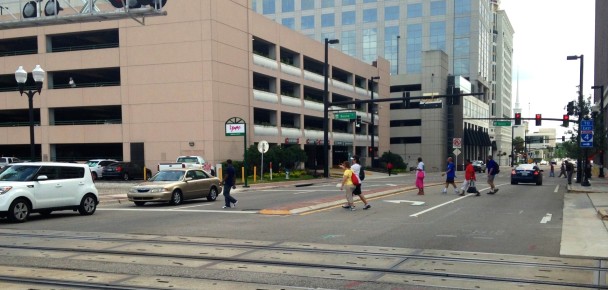 A report out from Smart Growth America shows that the Orlando area has the most dangerous roads for pedestrians.
The study ranked metropolitan areas based on the share of local commuters who walk to work indexed against pedestrian fatalities.
When pedestrian deaths were compared to population, Central Florida ranked 20th in the state.
In June 2012 a local pedestrian safety coalition, called Best Foot Forward, formed to address these challenges in Orange County and the City of Orlando. Best Foot Forward's objective is to increase driver yielding behavior at marked crosswalks and reduce injuries and deaths by 50% over five years.
Since launching Best Foot Forward driver yield rates on roads with speed limits at 35 mph or less in Orange County and the City of Orlando jumped from 12% to 48% due to a police ticketing drivers for failing to yield, City and County engineering improvements at those crosswalks, and educating the community.
For roads with speed limits 40 mph and higher, only 1.2% of drivers yielded to a pedestrian in a crosswalk. Now, driver yield rates at these crosswalks jumped to 5%.
"As stated in the report, the majority of pedestrian deaths occur on roadways that are dangerously designed and engineered to move cars, not people, and the driver yield rates are just one more indicator that we have much more work to do locally," says Amanda Day, project director for Best Foot Forward.
Photo courtesy Best Foot Forward.