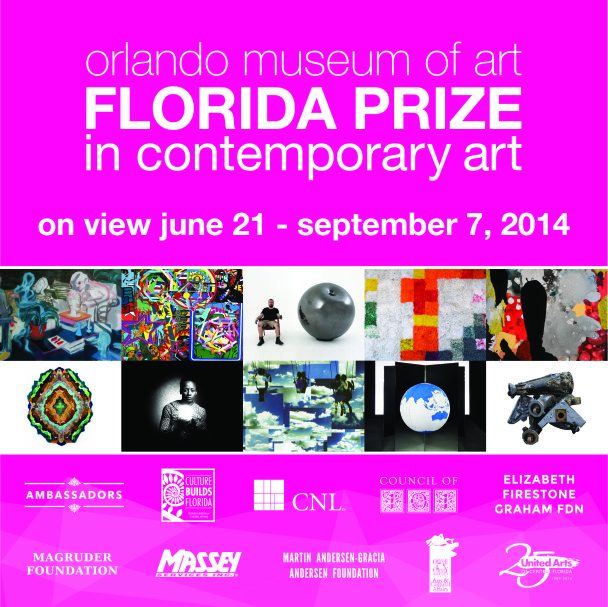 SPONSORED: The Orlando Museum of Art (Website | Facebook) will present the inaugural exhibition of the Orlando Museum of Art Florida Prize in Contemporary Art. The invitational exhibition will feature 10 of the most progressive and exciting artists working in the State today.
The premiere of the Florida Prize exhibition will open on June 21 and run through September 7, 2014. One of the outstanding artists from the exhibition will be selected to receive the $20,000 monetary award which will be determined based on the quality and significance of the artist's overall body of work and contributions to the field.
The award and invitational exhibition recognizes the achievement and potential of these artists and encourages their continued innovation and creation of new work.
"The Florida Prize initiative underscores the Orlando Museum of Art's commitment to the art of our time and to supporting emerging and mid-career Florida artists, and the production of scholarship about their work," says Glen Gentele, Director of the Museum.
The artists selected for the exhibition this year are:
Agustina Woodgate, conceptual and process-oriented work
Juan Travieso, painting
Jillian Mayer, video, internet and interactive installation
Ezra Johnson, painting and video animation
Sinisa Kukec, sculpture and installation
Brookhart Jonquil, sculpture and installation
Christopher Harris, film and video installation
Vanessa Diaz, sculpture and immersive installation
Elisabeth Condon, painting
Sarah Max Beck, post-consumer plastic tapestry.
These artists work in a wide array of artistic practices, often combining media and materials in inventive ways. Many are creating work from reclaimed materials and imagery appropriated from historic and popular culture. The diversity of the work seen in the Florida Prize in Contemporary Art reflects the dynamic and challenging nature of art today.
The Orlando Museum of Art is open Tuesday through Friday from 10:00 a.m. to 4:00 p.m. and Saturday and Sunday from Noon to 4:00 p.m. Admission is $8 for adults.