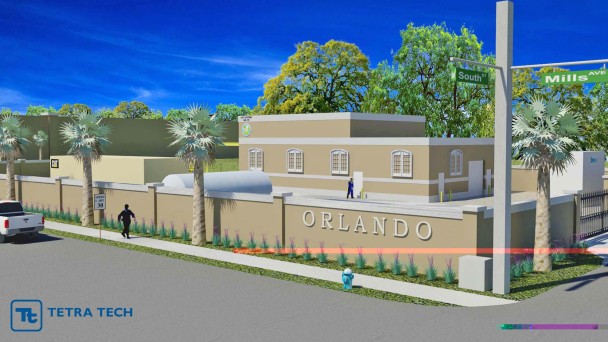 Back in August we told you about a new five unit rowhome being planned for the corner of South St and Mills Ave near Lake Lawsona [GMap].
Bungalower has learned that the City of Orlando purchased the property from the developer for $350,000.
The city plans to use that site for a new lift station to replace two aging lift stations that are currently located just east of this property.
The developer told Bungalower he had placed the property for sale thinking another developer would build the planned rowhomes on the site. He says he was not aware that the City was the buyer until after they closed on the property.
Lift stations move wastewater from an area of lower elevation to an area of higher elevation so that sewers don't have to be placed further and further into the ground to get them to the treatment facility. Lift stations can also contain wells to store the water until it's pumped to the facility.
The lift stations being replaced were built in the 1950s and are one of the largest in the City.  They serve over seven miles of the City's downtown area.
Th new stations are designed to allow for more capacity to support the needs in the downtown and surrounding neighborhoods.
"The new stations will be built in an unobtrusive way to blend into the surrounding area and will include ascetic/decorative designs and landscaping to further conceal it. It will also include a sophisticated odor control system and be built ensure it operates with low noise," Cassandra Lafser a spokesperson for the City of Orlando told Bungalower.
The design contract was approved at the City Council meeting yesterday. Lafser said design should take 9 to 12 months with completion estimated in Summer 2015.
Construction is estimated to start in the Fall 2015 after a bid phase and be complete by the end of 2016.
The original developer says he plans to purchase other property nearby and possibly build rowhomes on that property. We'll let you know what happens.
ONLY A FEW SPOTS LEFT FOR JULY'S BUNGALOWER BUNDLE: Join Bungalower and get the July Bungalower Bundle with a $10 gift certificate to The Strand, a free drink at Aku Aku, free crepe at Qarma Crepes, free yogurt at You Say When Yogurt Shoppe and half off admission to Orlando Museum of Art. Learn more >>
Here's a  look at the current design and site plan for the lift station: