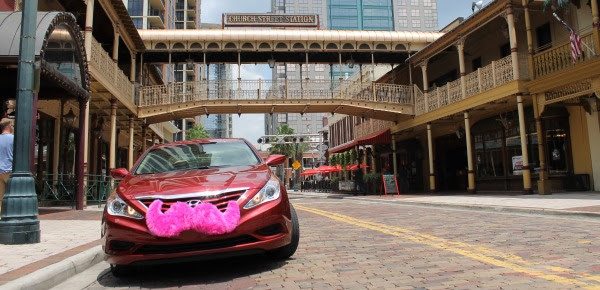 App based ride sharing service Lyft (Website | Facebook) launches today in Orlando.
Lyft markets themselves as "your friend with a car."
Users can request a ride from a driver using the Lyft app.
When the driver arrives they know it's a Lyft drive because there will be a big pink mustache on the grill of the car.
With Lyft you sit in the front seat of the car and head to your destination.
All payments are processed via the app.
Drivers are expected to start appearing in the app later tonight.
For the first two weeks, Lyft rides under $25 will be free.
While Lyft has been in contact with the City or Orlando, they have not filed for permits and would not qualify under the current rules.
They City is working with Lyft and Uber to figure out how the companies can operate legally in the City. Until then drivers picking up passengers could have their vehicles towed and ticketed.
UberX launched a last month in Orlando and also offers rides via an app.
Pricing for Lyft won't be available until later today but is expected to be competitive to UberX.