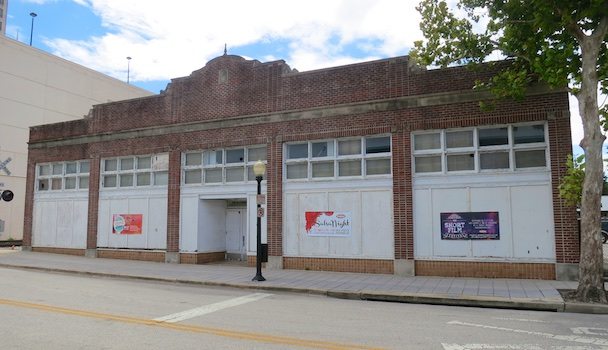 Ace Cafe (Website | Facebook) plans to open an entertainment and retail complex in the Central Business District of Downtown Orlando.
The complex would be located in two existing buildings just off Garland Ave between Livingston St and Robinson St [GMap].
The 2.94 acre retail and entertainment complex includes renovating and repurposing two existing buildings into 18,000 square feet of retail space and 14,000 square feet of restaurant plus associated site features and amenities.
The existing buildings are the old Harry P Leu Supply building and the former H20 Church.
The Ace Cafe is a London-based motorcycle/speed themed complex.
This is their first US location.
The London Ace Cafe draws thousands of people to their more than 400 events each year. The  plan is for the Orlando complex to be larger.
The owners are seeking approval for phase one of their project.
Phase one includes a restaurant and bar, a retail gift shop, and a motorcycle dealership.
According to documents filed with the city, Ace is also looking to build a motorcycle museum and repair shop in the future.
They plan to renovate of the 1926 Harry P. Leu building with approximately 6,000 square feet of retail on the ground floor and offices on the second floor.
The 18,000 square foot warehouse building next to the Leu building would be converted into a two-story restaurant with an outdoor bar area.
The plan also includes a courtyard event area with a removable stage to the south of the restaurant, a large, grass block display/exhibit/parking area in the center of the property, and additional vehicle exhibit areas around the perimeter.
The main entrance to the complex would be on Livingston St.
The project requires approval from the City of Orlando before moving forward.
Here's a look at the renderings and floor plans submitted to the city in addition to a video fly through posted on YouTube: