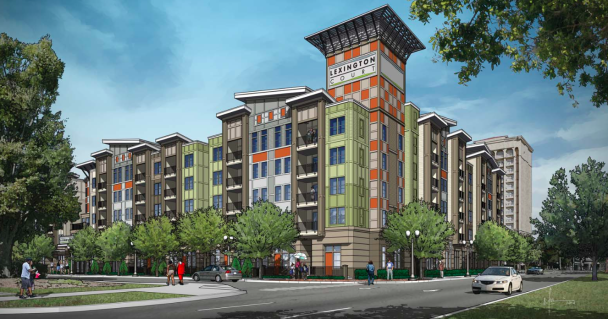 We've told you about the 109-unit Lexington Court apartments being built downtown, and now we have updated renderings.
The new five-story building will be located at 315 W Concord St (btwn Lexington Ave and Hughey Ave) [GMap].
The developers are going back and forth with the City on the color scheme of the building.
In the latest round the City staff is recommending to the Appearance Review Board that:
First, there are still too many colors and too many horizontal conflicts that disrupt the vertical lines, rhythm and organization of the building facades; too many accent colors that have the same effects too. The use of darker colors at the bottom and top of the architectural bays diminishes the verticality of those bays. The orange accent color has the same effect in some in- stances. There are also too many different architectural bay color and accent schemes that also make focusing on the strong vertical lines of the architectural design difficult as well.
The staff provided an updated color scheme recommendation that you can see below.
Ground work has already begun on the site for the project that can be seen from I-4.
Here's a look at the latest renderings and color schemes for the Lexington Court apartments.
What do you think of the color scheme?