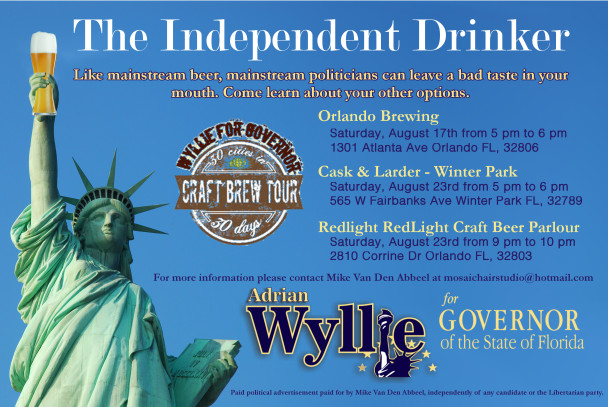 SPONSORED: It's the campaign season but that doesn't mean campaign events have to be boring. Libertarian gubernatorial candidate Adrian Wyllie is hosting a "good ol' fashioned meet and greet" in Orlando this weekend.
Wyllie will be there to talk about his platform, answer your questions, and address your concerns candidly in an informal, grassroots gathering.
There are two events this Saturday:
Cask & Larder in Winter Park from 5:00 p.m to 6:00 p.m.
Red Light Red Light in the Audubon Park Garden District from 9:00 p.m to 10:00 p.m.
You can visit their website for more information.
Paid political advertisiment paid for by Mike Van Den Abbeel, independently of any candidate or the Libertarian party.