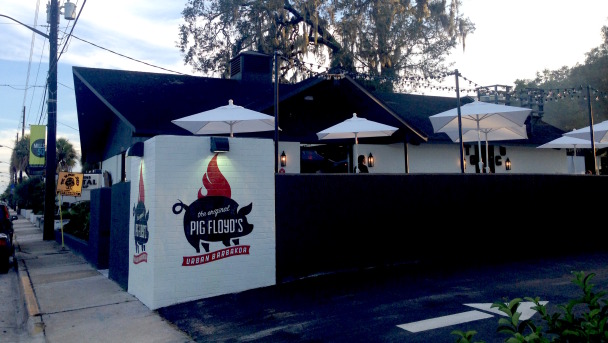 Pig Floyd's Urban Barbakoa opens today in Mills 50.
Pig Floyd's is located at 1326 N Mills Avenue [GMap].
They offers a smokehouse menu with an international twist.
"We are smokehouse with tacos," owner Thomas Ward said. "What other barbecue place has pork belly tacos?"
Ward picked an international menu with purpose. He ran the Orlando-based Treehouse Food Truck, which included the infamous luther burger among several grilled cheese sandwiches, before selling in July 2012 and moving back to Puerto Rico. He operated a restaurant there for a year, before selling and moving back to Orlando with a smokehouse in mind.
After doing research on the restaurant market, Ward says he knew what the area needed.
"A non-traditional smokehouse is fresh and different," Ward said. "Barbakoa is the Latin term for barbecue and we are doing it with pork, ribs and brisket in a unique way," Ward said.
One thing you won't find at Pig Floyd's: typical barbecue sides. Choices range from apple fennel slaw to fried plantains to corn on the cob with chili, lime and cotija cheese. Ward highly recommends the rice and black beans.
As for the main meal, Ward suggests the ribs, brisket or the pork belly tacos to start. The menu has barbecue from all over the world including butter chicken tacos with chicken tikka, a Vietnamese brisket banh mi sandwich and tacos with North African chicken sausage.
Ward calls his Jason Carlucci his culinary mastermind. They worked on the food truck together and teamed up to open Pig Floyd's and created the menu.
"When we started out we were going to be a traditional American smokehouse and then it just evolved," Ward said.
Pig Flyod's in Mills 50 is open Monday through Thursday 11:00 a.m. to 10:00 p.m., Friday 11:00 a.m. to 12:00 a.m. and Sunday 11:00 a.m. to 8:00 p.m.
Here's a look inside Pig Floyd's: