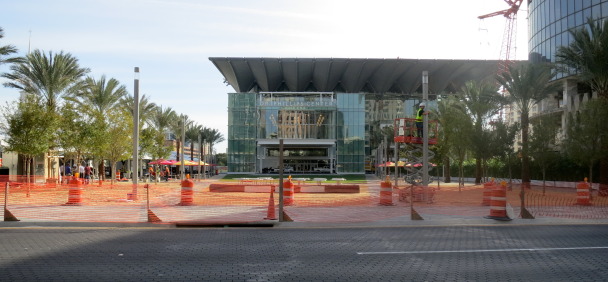 We've been telling you about the work on new Dr. Phillips Center for the Performing Arts being built in Downtown Orlando.
The first phase of the 330,000 square foot building will open tomorrow.
This phase includes two of the three main theaters, an outdoor plaza and performance space, an event space above Magnolia Ave, the main lobby, backstage area and classroom space.
The Dr. Phillips Center sits on two blocks bordered by Orange Ave and Rosalind St on the west and east and South St and Anderson St on the south and north.
Construction for the nine-acre project began in June 2011.
Here's a rundown of the grand opening events for the Dr. Phillips Center:
The official opening of the Dr. Phillips Center includes a ceremonial ribbon cutting honoring everyone who has made the dream a reality through their efforts for the past 25 years. After the ribbon cutting, the community is invited into the Dr. Phillips Center for an open house to tour the venues.
Find out more »
We'll be posting photo tours of both the inside and outside of the facility this week.
For a detailed look at what's included in this phase and the next phase, check out our previous walk-through of the project.