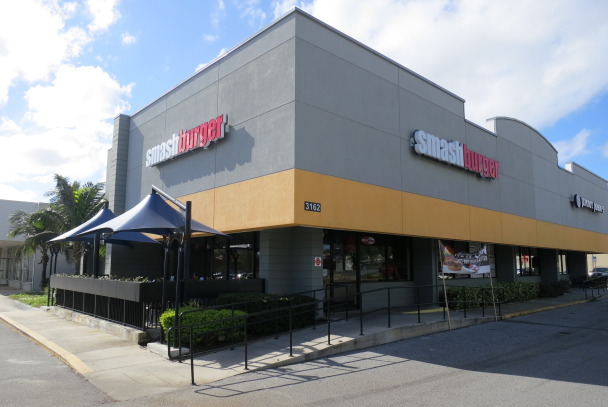 Smashburger (Website | Facebook) opened their first Orlando location at 3162 East Colonial Drive across from the Fashion Square Mall [GMap].
We told you in October about the plans to open Smashburger in the former Boardwalk Fresh Burgers & Fries.
Smashburger is a burger restaurant that smashes the beef onto their flat grill. In addition to burgers, they have chicken sandwiches, salads and sides including rosemary and garlic–seasoned Smashfries, Haystack Onions, and Veggie Frites (flash-fried and seasoned carrot sticks and green beans).
For their Orlando locations they have added the Central Florida Smashburger and chicken sandwich with melted Wicked pimina cheese, fried green tomatoes, lettuce, mayonnaise & spicy brown mustard on an egg bun.
The location includes outdoor seating and is open from 10:00 a.m. to 10:00 p.m. daily.