Orlando Health is moving to develop a new mixed use project at their Lucerne Hospital property, Columbia Park Medical Center. The redevelopment is being called the Lucerne Promenade.
The redevelopment as a mixed-used site would include a 200-room hotel, five residential buildings, 80,000 sq. ft. of commercial space, 60,000 sq. ft. of office space, and two partially sub-grade parking garages.
This area of Lake Lucerne, North of W. Gore St, between Lucerne Terr. and S. Orange Ave, is currently designated for high intensity office use. Orlando Health's developers, GDC Properties, are requesting that the City amend the Lucerne Hospital PD for a two-phase, multi-building mixed-use project that would replace the Columbia Park Medical Center. The Lucerne Hospital property, almost 11 acres across three blocks, currently consists of three medical and office buildings, and a surface parking lot.
Project Phasing
Phase one includes development of 252 residential units, most of the project's office and commercial space in buildings along Gore and Orange, a five-story parking garage, and a ten-story hotel at Lucerne Circle. The Lucerne Promenade will begin development in this phase with a fountain and 30,000 sq. ft. of the 55,000 sq. ft. central walkway through the development.
Phase two adds 400 residential units overlooking a second, larger fountain, another five-story parking garage, the final 1,000 sq. ft. of office space, and the completion of the Promenade.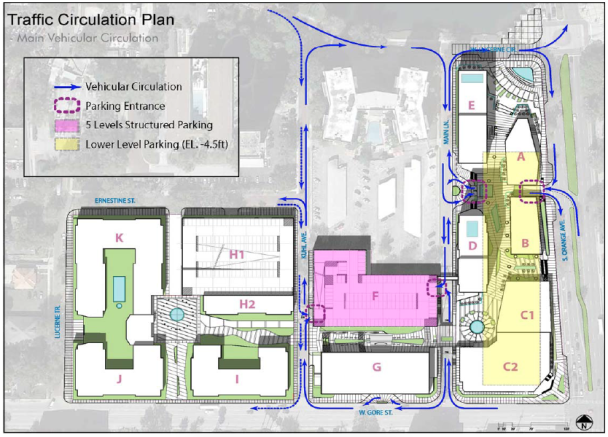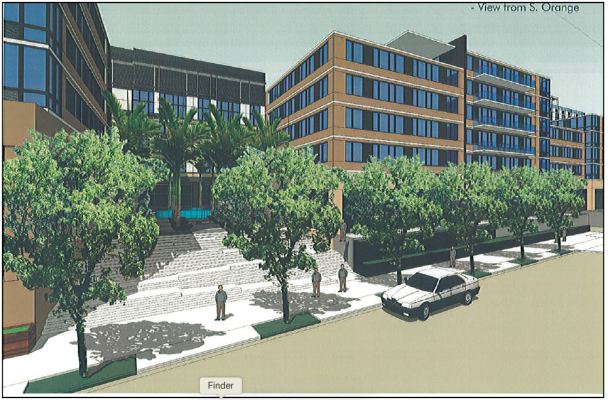 This project is set for review by the Municipal Planning Board tomorrow, and if approved (subject to the conditions in the staff reports) will be in front of City Council January 26, 2015.