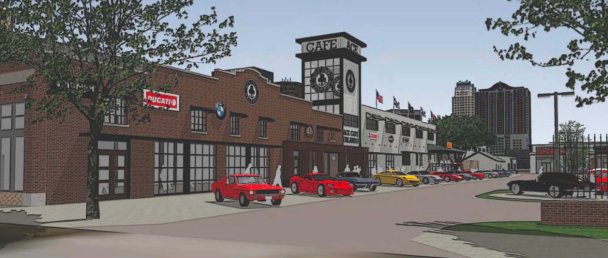 The City has approved zoning changes allowing Ace Cafe to move forward with their redevelopment in Downtown Orlando.
The new "planned development" zoning gives more flexibility to the project than the previous designation of "downtown metropolitan activity core." The entertainment plaza will be located on W. Livingston St. across from Lynx Central Station [Gmap].
Interestingly, the motor-and-speed-themed entertainment complex is served by multiple transit options including Lynx, Lymmo, SunRail, and Gertrude's walk.
The property currently contains three 78 to 110-year-old buildings. Ace Cafe plans to keep those existing structures including the brick Harry P. Leu building on W. Livingston St which will become the main entrance.
The project was afforded parking permissions based on a condition that before Ace Cafe's third year of operation it would commit to hosting over 150 events a year.
Regular events shall include but are not limited to:
Hot Rod Nights
Specific Model Meets (Mustangs, Volkswagen, Camaro, Mini Cooper, etc.)
Motorcycle Nights
Car and Motorcyle Club Meets
Streetfighter Meets (High Performance Motorcycles)
Antique, Classic, and Show Car Meets
Exotic Car Meets Porsche, Lamborghini, Ferrari
Auto-Manufacturer or -Nationality Meets
Vendor Shows or displays for motoring accessories and motor Fashion
We first told you about Ace Cafe in August. You can find more pictures of the planned development here.