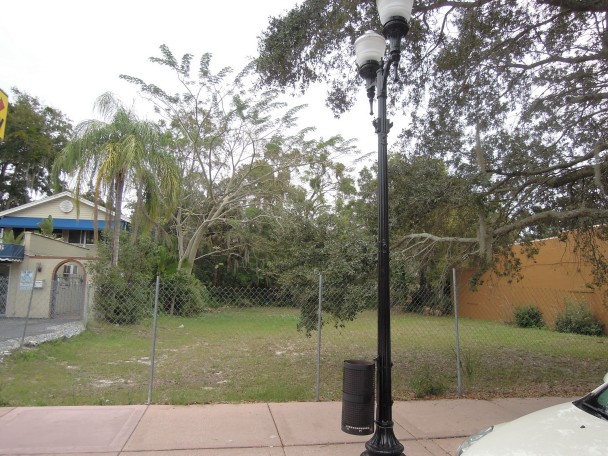 This empty commercial lot across from the Thornton Park Dexters [Gmap], has been vacant for years.
It's prime real estate (OCPA Info) that we assume will be developed into another mixed-use building like the condos across the street.

That being said, we would still love to see it changed into an open communal space that the residents and Thornton Park visitors could take advantage of. We suggest transforming the lot into a community garden with a stage, a "Concert Garden" if you will.
Take down the fence, replace it with something artistic (we put in a hand-carved folk art wood fence), a hippy-dippy riser for live music, lots of plants and some lights to make it safe at night. Done. That empty wall to the right would look great with a mural, perhaps something a little less street and a little more "bluesy" by local artist Ken Pease (Website).
While we're at it, we think it wouldn't hurt to add a bar/lounge to the laundromat next door. Just move the building forward a bit and halve the suspiciously deep parking spaces out in front.  A good name would be "Buds 'n' Suds". You're welcome.