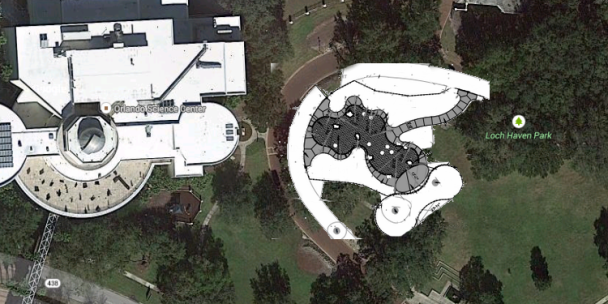 The western tip of Loch Haven Park juts out towards Orlando Science Center like God's finger in Michaelangelo's Creation of Adam. 
Due to it's proximity to OSC, it sees an inordinate amount of traffic from school groups, which apparently makes it difficult for the City to maintain. To address that problem, the City Planning department designed a "flexible plaza" that could take a heavier beating from the legions of little feet that trample the grass every day.
The plaza will feature concrete benches, paved surfaces and incorporate existing trees.
The design of the park was sponsored by a grant from the National Endowment of the Arts and was just approved at a Families, Parks and Recreation meeting on Jan. 26.
The Families, Parks and Recreation department will be applying for a $124,000 grant from Orange County Arts and Cultural Affairs to cover half of the cost of constructing the park. The city used a similar grant to pay for the sound system in Lake Eola Park in 2014.