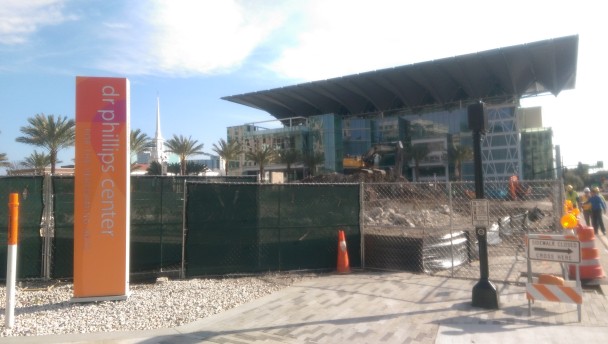 Demolition of the Round Building began on September 15, 2014. This week marks the fifth month of work on the project.
We're happy to see that the building has finally been demolished, but a large excavator still has the work of removing the hill of rubble on the site and filling the large hole where the Round Building used to sit.
According to the City, "The demolition process is still ongoing and is continuing as fast as possible without interfering with events at the Center for the Performing Arts or compromising public safety."
The Round Building was built in 1963. Its designer, Bob Murphy, studied under Walter Gropius, founder of Bauhaus, and is considered Orlando's first modernist architect.
When the Round Building, also known as the American Federal Building, was originally constructed it was just 2-stories, covered in glass and the iconic concrete panels. In the 70's, the five floors were added to the building.
After the plans for the Dr. Phillips Center for the Performing Arts were announced, a new group formed to save the 120 brise soleil concrete panels. The Nils M. Schweizer Fellows non-profit group raised a significant amount of money to save the panels. Commissioner Sheehan also pledged $70,000 from her City Council district budget to save and reuse the panels elsewhere. We're following up on the current status and location of the panels.
If you're interested in reading about the prolonged demolition process, the Orlando Sentinel covered it here.