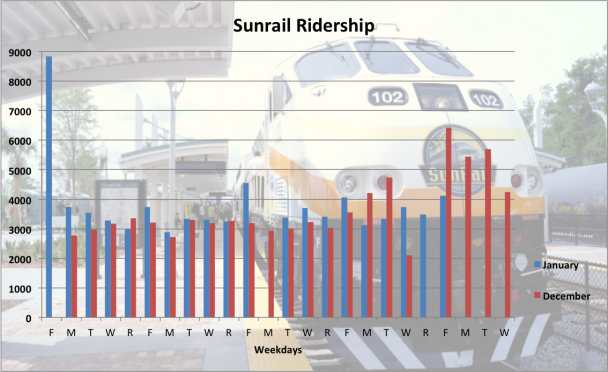 This is the second post in a series following SunRail's monthly ridership numbers. Trevor Conley, a senior Environmental Sciences student at Rollins College, is analyzing data for Bungalower from SunRail as it becomes available.

SunRail ridership numbers remained steady throughout the month of January.
Over the month, there were 75,786 passengers, just over 4,000 shy of the monthly total in December. However, the daily average of 3,789 riders in January is an improvement from the mark of 3,627 daily riders in December.
January 2nd, a Friday, had the highest ridership for the month with 8,842 riders on a day where extended service was available for those attending the Orlando Magic game downtown.
With the I-4 Ultimate Project under way, SunRail's ridership numbers could increase for those choosing SunRail to avoid rush hour traffic.
According to the Orlando Business Journal, although funding for Phase two construction was not included in Obama's budget, officials are hopeful a deal with the FTA and FDOT can be worked out to get $173 million in funding needed for a 17.2 mile expansion of the line from the Sand Lake Road station to the planned southern terminus in Poinciana.
Consistent and increased ridership tallies in January, despite still being short nearly 500 riders a day of the goal of 4,300 daily riders, is promising if expansion of SunRail is to ensue later this year.