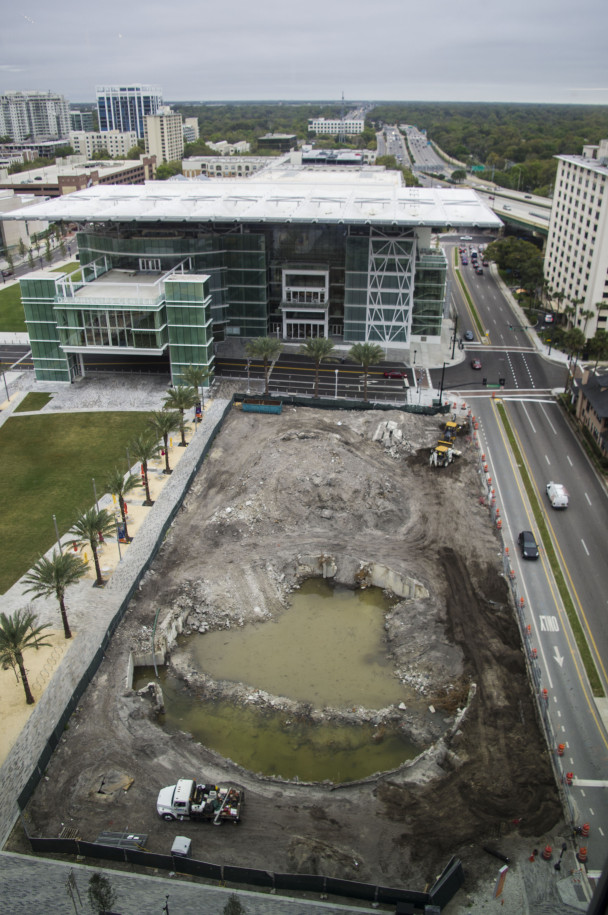 Last month we wrote about the Round Building marking five months of demolition work.
This month, with 176 days since demolition began and a week away from the six-month mark, the Crusader Demolition company informed the City that they were unable to complete the job and walked off the site.
Crusader has made repeated requests to the City for more money and time to complete the demolition.
After an RFP process last year, Crusader was awarded the contract to demolish the Round Building for $735,000. Work was expected to be completed in November.
On Tuesday, March 10, the City of Orlando's Procurement and Contracts Division sent a notice of termination to Crusader. The notice warns the company that their contract is  at risk of termination. According to a spokesperson from the City, Crusader now has seven days to "take steps to mobilize back on the job and provide a schedule and plan on how to complete the [project]."
If the contract is still in default after this seven-day period, the City will send an official letter of termination.
As part of their contract, Crusader Demolition was required to provide a performance bond. If the company is terminated next week, the bond company, Capitol Indemnity Corporation, will take over the project and hire a new contractor.
According to the City, there will be no additional costs as a result of this termination.