Here's a look at some of the events taking place this weekend.
Visit the complete events calendar by clicking on "Events" in our main menu.

Friday, April 24
::::::::::::::::::::Shock & Awe::::::::::::::::::: Friday, April 24th Guest DJ: Alekay [Theoryon Records] Alex Archer, better known as Alekay, is a Bass music/Drum&Bass producer based out of Port Saint Lucie, Florida. In March 17th, 2015, Alekay had his first release "a fusion of many of the sound design techniques, vocal sampling, and drum programming (amongst other Techniques) that were learned in his journey of producing electronic music" debut on beatport, Theoryon Records' second catalog release. Alekay runs Theoryon DnB (A collective of…
This is significant! The nation's first ACF Chefs sanctioned Green, Sustainable, and Local Food Cooking competition has been scheduled for Friday, April 24th between 5:30-7:30 pm at the Artisan Alley Garage during theFarmers Market In The Artisan Alley Deland. Four professional culinarians will use ingredients from the market and primary proteins from within 100 miles of the market to be judged by an ACF-certified judge. The event is hosted by Cress Restaurant with support from Conrad Realty & the NEST.…
Takeover is proud to present our next exhibition, Rare. Please join us on April 24, from 6:30-9 for a reception featuring UCF alumni and current BFA artists: Anna Cruz, Paul Finch, Jason Lake and Clay Dunklin. Guest Artist: Richard Reep Rare features four artists offering a variety of media include drawing, painting, sculpture, mixed materials, and photography. Ranging from the pure joy of image making to the ethical treatment of animals the works in this show provides viewers with beautiful…
Friday, April 24, 2015 8:00 PM Bob Carr Theater Tickets starting at $39.50 The all-new, live stage show MythBusters Jamie & Adam Unleashed, starring Jamie Hyneman and Adam Savage, co-hosts of the Emmy-nominated Discovery series MythBusters, promises to be an unexpected evening of on-stage experiments, audience participation, rocking video and behind-the-scenes stories. Fans will join Jamie and Adam on stage and assist in their mind-twisting and not always orthodox approach to science. MythBusters Jamie & Adam Unleashed brings you face…
Cult TV and Movie Trivia continues at B3 this with our partners APGD. Did you know… While George Lucas was filming on location in Tunisia, the Libyan government became worried about a massive military vehicle parked near the Libyan border. Consequently, the Tunisian government, receiving threats of military mobilization, politely asked Lucas to move his Jawa sandcrawler farther away from the border.
**Limited free tickets are available to walk-in customers at Park Avenue CDs in Orlando** Cornetist/trumpeter Rob Mazurek is best known for his forward motion fusions of electronics, jazz, and rhythms- both human and synthetic- of the world. Mazurek's history places him as the driving wheel behind Isotope 217, Chicago Underground Duo/Trio and São Paolo Underground. Black Cube SP combines the Brazilian musician base of Sãu Paolo Underground with Brazilian rabeca fiddle player Thomas Rohrer. The spiritual, cosmic and physical merge…
Saturday, April 25
Run for the Trees 5k run/walk is a unique point to point event. The last mile is on the tree-canopied, wilderness dirt road of Genius Drive. 7:30 am 5k (3.1 miles) 8:45 am: Kids Run (FREE) 9:00 am: Awards Presentation @ Showalter Field This privately owned glimpse of old Florida is opened to the public only once a year, for this event. All finishers receive a young tree! Event capacity is set at 1,800. Showalter Field 2525 Cady Way Winter…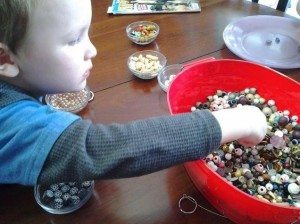 With the Audubon Park Garden District's Kidsfest, families get to explore food, gardening, games, activities and music throughout the district. Workshops include cooking, gardening, music making, painting, crafting, storytelling and so much more.
Celebrate and toast Saint Arnold, the Patron Saint of hop-pickers and brewers! Free admission, food trucks, live music and craft beer and wine from Rogue Pub.
Saturday, April 25th we will once again take over the outside bar at Johnny's Other Side. Don't forget to bring your Member ID Card for your FREE Lagunitas Beers!! As always, memberships will be available as well as our custom button down shirts… We're also gearing up for our big event in June, and will be looking for help for that day. Last year was awesome, and we're sure this year will be killer too!

Mad Cow Theatre is excited to announce our inaugural Black & White Bash, a fundraiser to support the future of the theatre! Show off your best black & white attire, and let us sweep you off your feet with delectable hors d'ouevres, signature cocktails, and lively musical performances. Individual tickets are $100 (a portion of the ticket will be tax-deductible). Complimentary valet parking will be provided upon arrival at Kres. All proceeds benefit Mad Cow Theatre. Tickets can be purchased…
A star-studded Toronto FC roster travels to Orlando to take on the Lions.