Here's a look at some of the events taking place this weekend.
Visit the complete events calendar by clicking on "Events" in our main menu.
Avoid the parking nightmare and pedal! Thomas M. Bunting Projects will be offering a free bike valet service during the Orlando International Fringe Theatre Festival. HERE'S HOW IT WORKS *You pedal to Fringe. *Find us on the main lawn. *We take some contact info. *We put your bike on a rack, you're encouraged to lock it. *We tag your bike & give you a matching tag. *You go have fun without worrying about your bike! BIKE VALET HOURS Thursday, May…
FRIDAY, MAY 22
Join us for a Tasting Friday featuring Tito's Vodka and Bungalow 23 Handcrafted Cocktail Mixers. We will also have several stations set up for you to taste some of our most popular wines. Bungalow 23 Flavors include: Blueberry Lemon Drop Prickly Pear Margarita Pear Ginger Martini http://www.b23mixers.com/ Tito's Handmade Vodka is produced in Austin at Texas' first and oldest legal distillery. It's made in small batches in an old fashioned pot still by Tito Beveridge (actual name), a 50-something geologist,…
BYOB Orlando is a one night gallery exhibition featuring explosions of light and movement by local and world renowned digital artists, designers and filmmakers. This is pop up projected experience will include animated GIFs, motion graphics, interactive installations, video shorts, and more. BYOB Orlando is a collaborative effort by Snap! Orlando, Art & History Museums – Maitland and curators Nathan Selikoff and Michael Forrest. Gallery: Germain Marvel Building, Art & History Museums – Maitland
SATURDAY, MAY 23
Join Rollins College professor Rachel Simmons for a hands-on workshop on visual journals on Saturday, May 23, 2015 from 9:30 am-12:30 pm. Get in touch with your creativity and start a habit of self-reflection through this unique fusion of art and writing! Participants will engage in memory-based writing activities and mixed media drawing, collage and printmaking techniques. The workshop is free, but space is limited to 12. E-mail [email protected] ASAP to reserve your space in this workshop! Copies of Rachel's…
Orlando Sketch Tours offers visitors a chance to slow down, see and sketch the true Orlando outside of theme parks. Thor from Analog Artist Digital World will be your guide for this 2-day sketching tour around Orlando's International Fringe Festival. Each workshop day is $125, or $200 for both days. Saturday May 23, 2015 Workshop 10am to 2pm. Sunday May 24, 2015 Workshop 10am to 2pm. For all levels, NO experience is required. All materials provided, just bring yourself. Your…
The fight for our food!! Mission Statement: http://on.fb.me/10oCMRb On May 23rd, 2015 millions of people across the world will stand together for the 3rd annual March Against Monsanto. Our goal is to educate the citizens of Orlando about the adverse health effects associated with GMOs and expose Monsanto's fraud and cronyism. We would like to inform the community about what they are putting in their bodies and encourage people to be the change they wish to see by supporting local…
SUNDAY, MAY 24
Every other Sunday we invite the community to join us at East End Market for the Fleet Farming Swarm ride! Join us as we ride throughout the community maintaining farmlettes, harvesting greens, and preparing our salad mixes for the Audubon Park Community Market. You'll learn all the ins-and-outs of urban farming, from seeding, weeding and more! All farmers must have their own bike. HELMET, water, and gloves are recommended!
Free
The Official Downtown Orlando Farmers Market since 1987. The Orlando Farmers Market is home to a vibrant marketplace including over 50 vendors year-round. You'll find seasonal farm fresh produce from local growers, as well as baked goods, cheeses, and other specialty foods. Plus, a variety of locally made arts, crafts, and homemade goods. The Orlando Farmers Market is dog friendly and the perfect way to spend your Sunday afternoon with the family around beautiful Lake Eola in the heart of…
Memorial Day is right around the corner! Enjoy the 3 day weekend and come out for an extra night of partying on Sunday for our All-American Block Party! $3 Yuengling Lager from 3pm-2am! No Cover!! 21 and up only.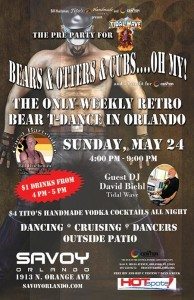 Bill Huelsman, Tito's Handmade Vodka and Savoy Nightclub have teamed up to bring back one of the most asked for events in Orlando – The Bear T-Dance – as a benefit for The LGBT Center of Central Florida. The ONLY weekly Bear T-Dance in Orlando! **DANCING **DANCERS **OUTSIDE PATIO Starting Sunday, May 24 (Memorial Day Weekend) join your friends and the producers of Tidal Wave 2015 as they kick off this amazing fundraising event for The Center with Tidal Wave…
Orlando City Soccer Club is going to San Jose so come watch the game with us on Wall St! Official Ruckus watch party in Shine! $3 Heineken from 5pm-10pm in all our bars! Match starts at 7pm.