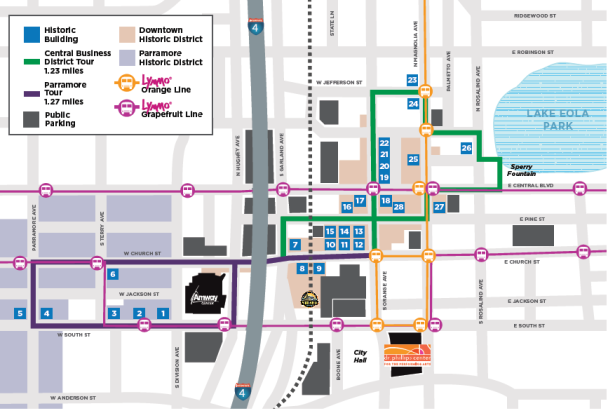 The City of Orlando is launching a program to celebrate and recognize sites of historic note in the downtown and Parramore area.
The program will install 25 plaques that will be part of the City's Historic Walking Tour, by the end of June, and is part of the Project DTO strategy to celebrate Orlando's diverse culture and heritage by creating a stronger sense of place.
The first plaque will be installed at the Well's Built Motel (Website) with District 5 City Commissioner Regina Hill, Senator Geraldine Thompson and Orlando Mayor Buddy Dyer at 10:30 a.m. Thursday, May 28.
Locations on the walking tour include the following, but to read the full descriptions, click HERE:
Well's Built Hotel
Dr. William Monroe Wells House
Victorian House and Cottage
Hankins Building
Mount Pleasant Baptist Church
Ebenezer Methodist Church
Slemons Department Store
Bumby Hardware Building
Old Orlando Railroad Depot
Nicholson-Colyer Building
Kress Building
First National Bank
Orlando Bank and Trust Company
Tinker Building
Carey Hand Funeral Home
Elijah Hand Building
Dickson-Ives Department Store
Yowell-Duckworth Building
The State Bank of Orlando and Trust Company
Angebilt Hotel
Rose Building
Rutland's
U.S. Post Office and Courthouse
Cathedral of St. Luke
Old Orange County Courthouse
First Church of Christ Scientist
Rogers Building
Ellis Building