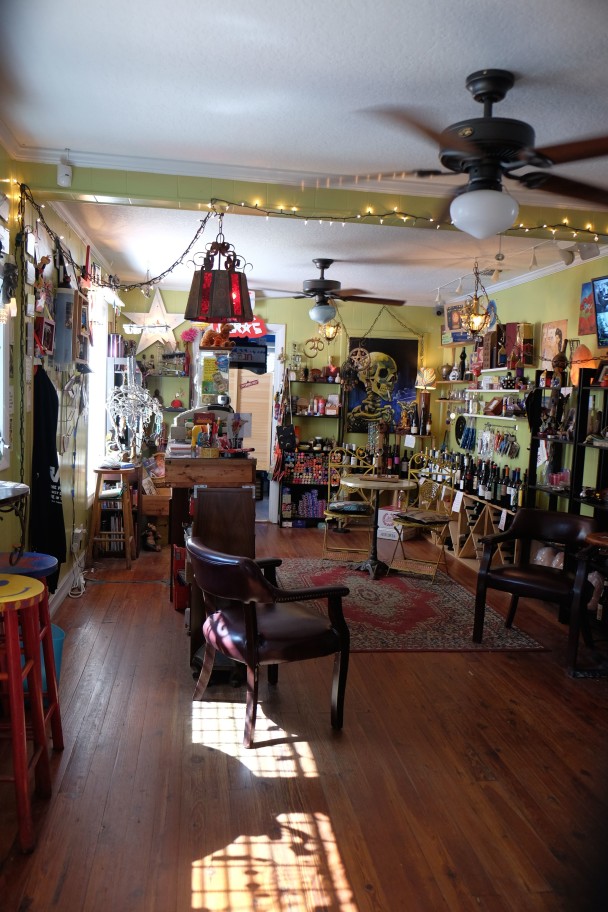 By Frank Flanagan
Frank Flanagan is a freelance writer fresh from Rhode Island. This is the first of a series of columns by Flanagan where he explores Orlando with a newcomer's perspective. 
The regulars at Nora's Sugar Shack (Facebook | Website), better known as Nora's, sure like to throw the word "home" around. One of Nora's regulars, Jay told me almost immediately upon meeting him that, "It really is like home. Look, [pointing to one of the lounge chairs; jokingly] there's grandma's chair." But Nora's is not just about the décor for Jay, "It's just a cool place, for interesting people. You come, you have a beer, you have a cigar, that's it. I could hang here all day."
For Lisa, one of Nora's closest friends, the shack is a routine stop on the way home from work everyday. "I come here to unwind," she said, sipping a Michelob Light. "I can unwind here in 10 minutes, where at home it takes at least an hour." During the cooler months Lisa will bring her bulldog, Mable, along with her. Dogs are welcome to come sit outside with their owners at Nora's, just not in the shop itself.
The patio space is cozy and comfortable. There are several tables, all of which fly massive umbrellas to protect patrons from the always-looming Florida sun. The regulars at Nora's are by no means packed in, but they are close enough to talk to each other from table to table, which is a big part of the experience. Laughter and conversation seem to always be a constant at Nora's, inside and outside.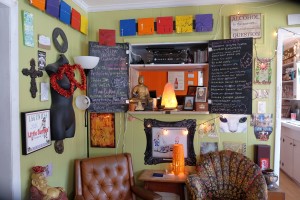 Daisy G. comes and sits outside Nora's almost every day, and doesn't mind the drive down from Casselberry. She also didn't seem to mind the light drizzle that fell as we spoke. "A lot of people spend time in the office, so they come here to escape," Daisy said. Daisy met Nora about 5 years ago just up the street at the shop's former location on Lake Ivanhoe. Daisy started going to Nora's to kill time before a fitness class after work everyday. Eventually the fitness program ended, and Daisy kept going to Nora's.
Daisy wrapped her arms around Nora as she walked by during our conversation, and made some sort of inside joke. The two burst into laughter and Nora hopped back to give Daisy a high five. Nora, sporting a mechanic shirt with the name "Rusty" on it, seems to always have something to say. At the epicenter of a happy group of people, Nora keeps her shop well-stocked with a wide variety of wine, beer, and cigars. Vintage posters and chachkis line the walls and shelves of Nora's, adding to the shop's unique flavor. Nora's two dogs, Ducky and Stolen, are also fan favorites and serve the shop as greeters.
Jill is from California, and she misses it there. Fortunately she has Nora's to bring her back to the west coast, at least mentally. Sitting outside under the shade of the umbrella, and enjoying a glass of wine with her two friends, Tim and Joāo, she agreed to speak with me, but only after making sure Nora was okay with it.  Longing for Cali, I sat with Jill as she described her love for Nora's. "There's really no other place like it. Nowhere else has this lounge feel. It really is very unique." Jill continued to describe the comfort of Nora's, when Tim chimed in. "It's like home, or going to a friends house. We don't like to leave home, so when we do go out, we like it to still feel like home," Tim joked.  "And the wine is always good too," Jill added, "always a mystery, and always good."  Jill is a Nora's veteran, while it was only Tim's second time there.
It's a regular crowd at Nora's, but also a diverse one. Many of the patrons at Nora's emphasized their love for the eclectic group that gathers there. They made sure I knew that Nora's brought people from all walks of life together, many of which share the best part of their days together, sitting outside at Nora's.
Nora's Sugar Shack is located at 636 Virginia Drive in Ivanhoe Village [Gmap].