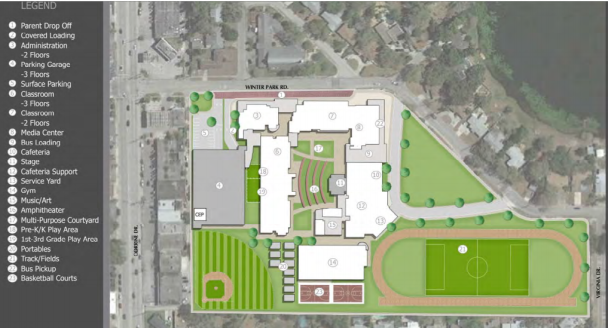 By Guest Columnist Leslie Wolcott
UPDATE – The original post said this was the site of Princeton Elementary, which is incorrect. We've edited this piece since it's original posting
We happened into a meeting at Bikes, Beans and Bordeaux (Website) today where architects, OCPS employees including John Morris, the Chief Facilities Officer for Orange County Public Schools, and Orange County School Board member Nancy Robbinson presented plans for the new Urban K-8 School at the 13-acre OCPS site in Audubon Park.
Planners discussed keeping historic baseball field from the 1950s and '60s and adding some enhancements like restrooms and concessions.  Currently, the school yard is being used by neighborhood residents as a community greenspace—something many will be sad to lose. Another loss to the business community will be the parking in the alley behind the businesses along Corrine Drive; parking that exists on OCPS land, but has become de facto community space in the years that the school system has not been utilizing it. There will be a three-story parking deck with a 240 car capacity, built on the property, with the first level utilized as a traffic queue for parent drop offs, and ramps to employee parking.
Business owner TJ Bettis, of Orlando Outfitters (Website) said that he has known that the alley parking was never guaranteed to Audubon Park businesses, but he's not sure everyone knew that. The owner of another business noted that in one block of Audubon Park businesses, she counted 50 employees that needed somewhere to park.
At the meeting, a number of business owners and community members expressed concern about existing parking challenges for both employees and customers of the Audubon Park commercial district. Some people also noted that historically, lines of parents dropping off their children at the school site has blocked not only the alley that accesses business parking, but have also caused blockage of the Winter Park road/ Corrine Drive intersection at peak traffic times.
Architects and planners have designed the parking lot so that it can be locked down during school hours, but community and business owners expressed hope that a joint use plan—a potential solution noted by John Morris—could be worked out for shared use of the parking deck on weekends and during evening times.
Bettis, of Orlando Outfitters, noted "this project has the potential to set us back a bit—losing parking might cause people who wouldn't otherwise do so to consider moving their businesses. But," he said, "it also might spur people who don't normally move quickly to come up with solutions that will be good for the whole community."   Construction will start at the beginning of 2016, so if community members, the City of Orlando, and OCPS want to work on parking solutions collaboratively, there is still time.
An earlier version of the school plan can be seen at Nancy Robbinson's page, HERE, complete with renderings of the classrooms, gymnasium and more.