By Frank Flanagan
Orlando has seen a marked rise in the amount of coffee shops the past few years and it gets a little hard trying to keep them in mind when you wake up nice and early and need that fix of java to get your day started right.
We've assembled a fairly comprehensive list of Orlando's coffee shops below to make that search for a cup o' joe a little easier.
Lineage Coffee Roaster (Facebook | Website) – Audubon Park, 3201 Corrine Drive [GMap]
Lineage takes coffee seriously. Located in the East End Market, Lineage brews unique blends of coffee, such as the Ethiopian Shakiso blend ("jasmine, lemon, creamy body") and the Modern American Espresso ("cashew, chocolate, lingering sweetness"). This isn't your grab-and-go cup of joe, these pours take time, so if you're in a hurry just grab one of the yummy cold brews.
propagation. (Instagram) – Mills 50, 1221 N. Mills Ave. [GMap]
In the heart of Mills 50, propagation offers patrons Lineage roasted coffee, as well as an opportunity to browse and purchase beautifully crafted pieces of furniture. Propagation wears many hats, serving as a shop, a gallery, and a showroom – the space is even available to rent for weddings or photo shoots on Mondays.
Downtown Credo (Facebook | Website) – College Park, Ivanhoe Village, 706 W. Smith St. [GMap]
Besides being a great place to do work or hang out, Downtown Credo is non-profit working towards building a better world. The shop hosts and facilitates impactful community events aimed at "improving the quality of lives in our nation's cities by cultivating networks of meaning, impact, and community." All the while, Credo serves a variety of treats and coffee drinks, and get this, the coffee is "pay what you can" which means no set prices. They've opened a second location in Ivanhoe's Health Village and have a third one in the works for downtown Orlando.
Drunken Monkey Coffee Bar (Facebook | Website) – Milk District, 444 N. Bumby Ave. [GMap]
The Drunken Money  was built with the idea of creating the consummate college town coffeehouse. Offering a variety of mostly vegetarian food and drinks, the Drunken Monkey also offers young talent the chance to showcase their stand-up skills. Whether you are looking to laugh or perform, Friday nights at the Drunken Monkey are just your game. They're also one of the only venues in town where artists can hang and sell their art without having to pay a commission.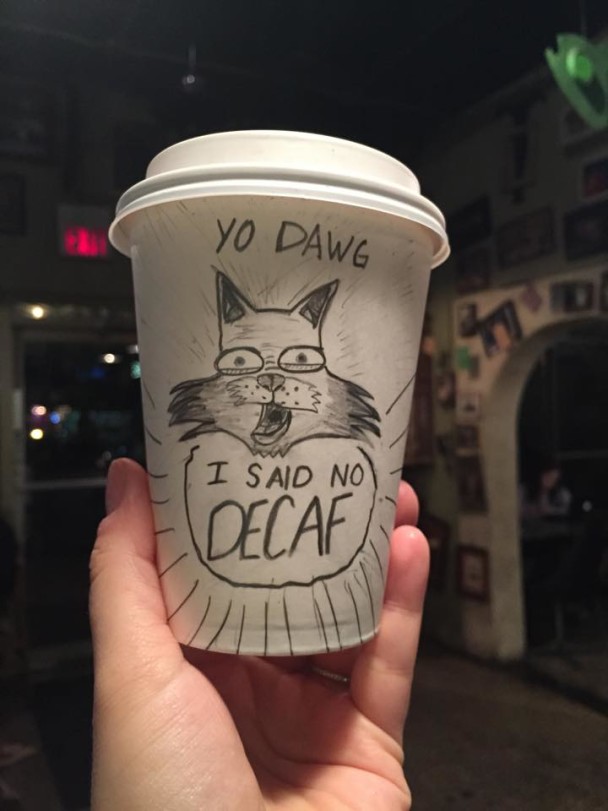 Stardust Video and Coffee (Facebook  | Website) – Audubon Park, 1842 Winter Park Rd. [GMap]
Stardust Video and Coffee has gotten away from renting videos as their name suggests, but their coffee and food are as good as ever. The shop is very spacious, with long cafeteria like tables (recycled doors "arted" up by resident artist Doug Rhodehamel), filled with creative professionals holding meetings or gaggles of angel-headed hipsters typing away on their laptops. Stardust has a very eclectic menu, hosting a number of vegan options, not to mention packed book shelves and old-school arcade games.
Austin's Coffee and Film (Facebook | Website) – Winter Park, 929 W. Fairbanks Ave. [GMap]
Similar to Stardust in both aesthetic and history, Austin's Coffee touts its brew as "Orlando's best coffee," and Thursday through Sunday it's available 24 hours a day. That's right – coffee at all times of night. Whether its for a late night snack, or a late night drink, Austin's Coffee may just be Orlando's most accessible coffee spot. Monday through Wednesday the shop observes normal hours (7 a.m. – 2 a.m).
Barnie's Coffee Kitchen (Facebook | Website) – Winter Park, 118 S. Park Ave. [GMap] (Multiple locations)
Located on Park Ave in Winter Park, Barnie's Coffee Kitchen peddles more than just coffee and food. This unique Orlando café also sells merch, brewing equipment, and plenty of other goodies for any coffee lover. Barnie's also has a satellite café located at 29 Orange Ave for those working hard downtown that need their Barnie's fix. They recently updated their menu, which we wrote about HERE, to now include baked yummies from Blue Bird Bakeshop.
Bike, Beans, & Bordeaux (Facebook | Website) – Audubon Park, 3022 Corrine Drive [GMap]
Jen and Darrel Cunningham are two "cycling enthusiasts" who founded Bikes, Beans, & Bordeux to give them and their friends the type of hang out they just couldn't seem to find in Orlando. Located in the heart of Audubon Park, right across the street from the East End Market, B3 offers customers "healthy" and diverse menu's that are sensitive to gluten and vegan dietary restrictions, oh, and they have jelly beans.
Java Lava (Facebook | Website) – Downtown Orlando, 47 E. Robinson St. [GMap]
If you can't make it out of the office but you're desperate for a coffee, you can always call Java Lava. The Robinson street coffeehouse is the perfect place for breakfast, lunch, and meetings, but if you do get stuck, Java Lava offers free delivery to customers in the downtown area.
The Coffee Garden (Facebook) – Downtown South, 1817 S. Ferncreek Ave. [GMap]
Potentially the best smelling shop in Orlando, the Coffee Garden is a coffee shop that is also a florist, following a growing Orlando trend in hybrid businesses. Maybe you want to be the best spouse ever, and grab some flowers for your significant other on the morning coffee run – this would be the place to do it. The Coffee Garden features different flavors every day, while also offering assorted donuts, fritters, scones, and other breakfast treats.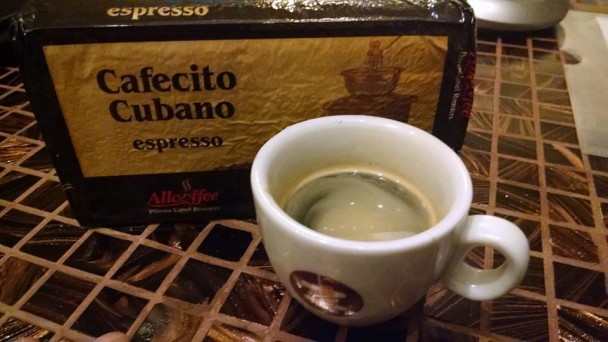 This N That Eats (Facebook | Website) – Ivanhoe Village, 1811 N. Orange Ave. [GMap]
Coffee and Cuban sandwiches…what's not to love. This N That Eats is up to some real good in the Ivanhood. The shop has only gotten rave reviews since opening at the end of June, in place of what used to house the short-lived Alpine Coffee.
Coffee Culture Cafe (Facebook | Website) – North Quarter, 855 N. Orange Ave. [GMap]
Coffee Culture is a Canadian coffee chain, and its latest location happens to be in Orlando's North Quarter. They specialize in pastries, coffee and more and can be found in the bottom floor of the NORA apartment building.
Artisan's Table (Facebook | Website) – Downtown Orlando, 22 E. Pine St. [GMap]
The award-winning restaurant has made a big impact in the foodie scene downtown, but they also play a really strong coffee game. Their coffee tequila shots are strong, frighteningly smooth and reminiscent of a tequila soaked brown sugar cube … if there were such a thing. The process of making it involves a fascinating apothecary instrument that looks like it could spit out a philosopher's stone at any minute.