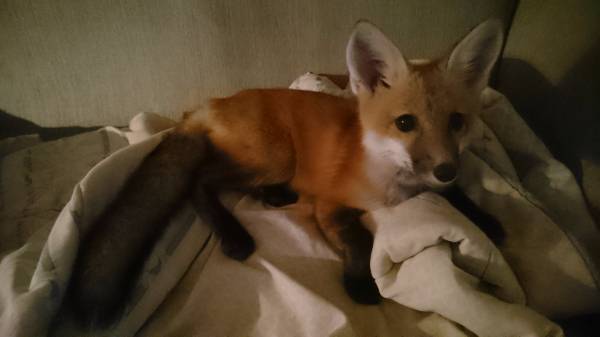 A local Orlandoan has listed a red fox for sale on Craigslist, which according to Florida Fish and Wildlife, is completely legal with the right permit.
In this case that's a Class III no-cost personal pet license, which can be obtained via filling out a questionnaire. The filing process however, takes about three to four weeks.
Editor's Note: Foxes are adorable, but they come with a host of complications when kept as personal pets. They are a wild animal and as such, have a variety of needs that a care taker needs to be fully committed to meeting before entertaining trying to keep one as a pet. They like to roam, so you'll need a pen or fenced enclosure. They are adept diggers, so any fence will need to go down at least three feet to ensure they can't get away. The enclosure needs to be sealed at the top, as foxes are also good climbers. Here's a great list of tips at Wiki-How.
The Craigslist posting reads as follows:
Hello my name is Katherine and I have this lovely Red Fox that a lot of people would find extraordinary if i walk her around the streets and of course she is, a lot of people ask me how is it to own a Red Fox and is actually pretty simple is just like a dog, likes to chew stuff, likes attention, loves a lot of space.

She's really lovely in-bred fox, litter box trained, has all her vaccines, she's still a puppy around 3 months old. I'm se lling her because I need to move out of state and the state I'm moving into does not allow foxes as pets, is a good thing Florida does allow them.
All her toys, crate, gates, bowls and stuff comes all for free with her and like I said you dont have to worry about the vaccines. The price can be completely negotiable.
Contact me as soon as possible if interest or have any questions.
To see the original listing, click HERE.
UPDATE – THE POSTING HAS SINCE BEEN REMOVED FROM CRAIGSLIST