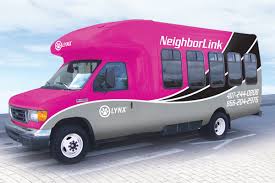 The Central Florida Regional Transportation Authority NeighborLink  flex-service has set a ridership record in the recently completed fiscal year 2015 with more than 181,441 passengers. Which means that ridership grew by 15,572 during the past year.
NeighborLink is a LYNX service aimed to make it easier for residents living in less-populated areas to make use of both local transportation and the local bus system.
LYNX offers this service on 13 routes throughout Central Florida including Poinciana, Intercession City/Campbell City, Ocoee, Winter Garden, Pine Hills, Bithlo, Oviedo, Buena Ventura Lakes, Kissimmee, Williamsburg, Goldsboro and Maitland.
The service operates 5 a.m.-8 p.m. Monday through Saturday except in Buena Ventura Lakes, Intercession City/Campbell City, Maitland and North Kissimmee where rides are available Monday through Friday.
Riders in the designated NeighborLink area must call 407-244-0808 at least two hours before they want to leave and schedule a pickup time. A NeighborLink vehicle will pick them up and bring them back, if needed. NeighborLink operators will provide transportation anywhere within the designated service area or to a LYNX local bus stop.
LYNX anticipates to pass 1 million NeighborLink riders in November or December 2015.