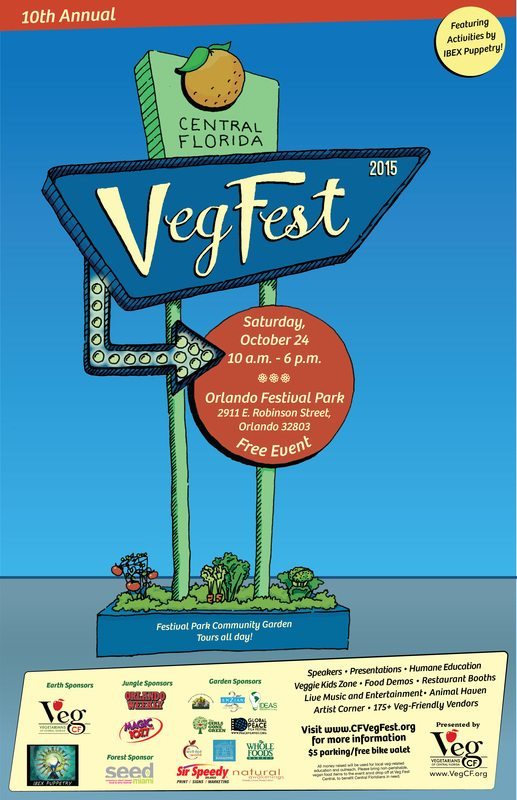 SPONSORED: The annual Central Florida Veg Fest is back this Saturday, October 24 at Orlando Festival Park [GMap].
The event, running from 10 a.m. to 6 p.m., is now in its 10th year of celebrating and educating on the benefits of a plant-based diet and lifestyle. The event attracts a diverse crowd of over 175 vendors and 100 participants, featuring healthy living and eco-friendly exhibitors, speakers, local non-profit organizations, fun and games for kids, humane education, dog and cat adoptions,restaurant booths, food preparation demonstrations, community garden tours and much more.
This year will also feature activities and performances by Ibex Puppetry.
Visitors are encouraged to bring their children, dogs, and a "healthy appetite" so they can enjoy the many food vendors at this smoke-free event.
Attendees at this fun, family-friendly event can enjoy yoga demonstrations and classes, belly dancing and break dancing, free food samples at the Ask-A-Vegan booth, and a raffle with 100% of the proceeds going to animal rescue groups at the event.
Vegetarians of Central Florida (Facebook) is the founding organization behind Central Florida Veg Fest (Facebook | Website) and currently has over 3,000 members.
Admission to Veg Fest is free! On-site parking is available for $5, and there is a free bike valet next to the community garden. For more information click HERE.