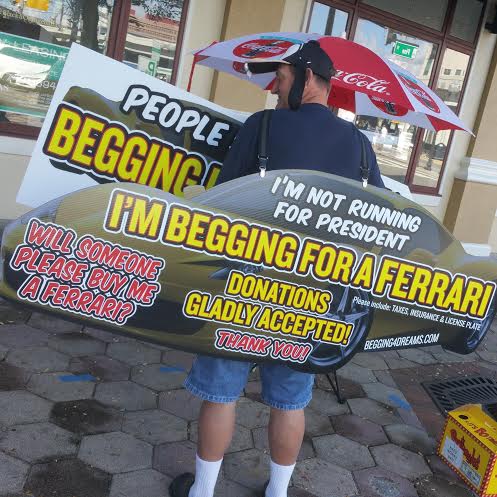 A man from Avon Park, FL is begging downtown today, but he's not just asking for chump change, he wants a Ferrari.
Carl Lawson (most people call him Bo) is a professional truck driver (read, not homeless) and according to his website, has worked hard all his life but wants to "invest in his dreams." One specific dream he's pursuing is being the owner of a Ferrari.
Lawson was inspired by a man who he saw begging on the side of the road one day. It turned out that the man wasn't making a "bad living" which gave him the idea to start begging for a Ferrari.
Lawson will be hopping from blue box to blue box in downtown Orlando until October 30 when he'll be making his way to the Miami Car Show on November 1.
Blue boxes are the only legal spaces in Downtown Orlando where people can panhandle or ask for money.