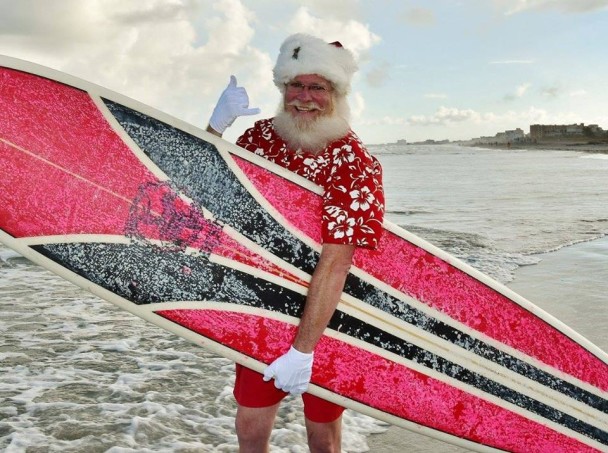 Here's a look at some of the events taking place this weekend (yes one of the things has surfing santas).
Visit the complete events calendar by clicking on "Events" in our main menu.
If you'd like to have your event added to our calendar, simply send us a link to your Facebook event page to [email protected]
Friday, November 27
Orlando City is having an Adidas Tent sale starting on November 27th! 50% off Orlando City Merchandise, mark your calendars! Season Ticket Holders! We have an early opening just for you from 2 to 3 on Friday!
Looking for an alternative to Black Friday shopping? Join CFAM Curator, Amy Galpin, Ph.D., at the Alfond Inn for a tour of works in the museum's collection by artists such as Lawrence Weiner, Monir Farmanfarmian, Carrie Mae Weems, and Carmen Herrera. Free Admission and open to the Community. Please share this event with your friends and colleagues! The Alfond Inn is located at 300 East New England Avenue in Winter Park. The tour begins in the lobby. Please note: The…
Our surprise pro Surfing Santa will arrive on his surfboard at Shepard Park in Cocoa Beach and shred a few waves before he comes to the beach to hand out candy canes to all the kids. Free pictures with Surfing Santa in his lifegaurd chair surrounded by surfboards and palm trees!
Joins us! Burn off those extra calories!!! Bring your mom, sister, ex-girlfriend, current girlfriend, bring the whole crazy family! After you are done getting fat & happy from holiday food and shopping malls, join us for BLACK FRIDAY CRITICAL BLAST!!!!! All bikes welcome, all riders welcome… We know it is a holiday weekend… but please, come JOIN THE FUN!!! BRING THE RUCKUS!!! Ride leaves promptly at 6pm… if not sooner, bring lights, wear a helmet, be safe and let's MASS…
Orlando Magic vs. Milwaukee Bucks
Saturday, November 28
Orlando Main Streets are encouraging shoppers to participate in Small Business Saturday by buying local on Saturday, November 28. This day showcases the City's thriving small business community on the biggest shopping weekend of the year. To participate, shoppers can simply shop or dine at their favorite local businesses. Many of the City's independent retailers and restaurants located within Orlando's eight Main Street Districts.
Inspired by the paintings in the current exhibition, "Mary Whyte: A Portrait of Us," the Mennello Museum is hosting member artists from the Central Florida Watercolor Society to paint live in the galleries. From noon-2:30 p.m. on Saturdays through December, member artists will set up and paint portraits using a live model, allowing visitors to watch the process from start to finish. This special activity is included with the cost of admission. centralfloridawatercolor.org mennellomuseum.com
It's almost time for people to get to their Holiday Shopping and we know the best way to shop is from local artists! Come enjoy the music by DJs Rob Slac, Latenight Society and Fox Force 005. Watch LIVE art and get a headstart on shopping for the Holidays!!! Food and beer available, so come spend an evening at our Take Over!! Interested in being a vender, there's still space, but time is running out. See below for vender details.…
We're going all out for the FSU vs. UF watch party and extending the party into the street! Watch the game in Sideshow or on the 16ft LED TV on Wall St. Plaza! Block party and drink specials start at 6pm! Game kicks off at 7:30pm. All of our regular Garnet & Gold drink specials will start at 6pm, so come early and grab your seat! – $2 Coors Light draft until halftime – $12.50 Miller Lite & Coors Light…
Join us on Small Business Saturday for the official unveiling of our very own store and workshop. We have created an outlet for our upcycled, refinished and reclaimed furniture and home decor. The official launch will be at 6 pm with refreshments and festivities and an official board cutting no ordinary ribbon cutting here. We hope you can join us in celebrating the realization of a long time dream of opening a business of our own.
Orlando Solar Bears vs. South Carolina Stingrays
Please join us for JC's farewell reading. Doors will open at 7:30, and light refreshments will be available. You are welcome to bring something you'd like to drink.
Join us for another late night curling event! We'll have instructors on-hand to teach first-time curlers the basics, and we'll have sheets available for return curlers to practice on. All are welcome to join us for another night of curling in Central Florida!
Sunday, November 29
The Official Downtown Orlando Farmers Market since 1987. The Orlando Farmers Market is home to a vibrant marketplace including over 50 vendors year-round. You'll find seasonal farm fresh produce from local growers, as well as baked goods, cheeses, and other specialty foods. Plus, a variety of locally made arts, crafts, and homemade goods. The Orlando Farmers Market is dog friendly and the perfect way to spend your Sunday afternoon with the family around beautiful Lake Eola in the heart of…
Homeless Feeding/Clothing – Downtown Orlando Lake Eola Park – 512 E Washington St. Orlando, FL We will be meeting at Lake Eola at 4:00 PM and will walk through downtown handing out food, water, socks, shoes, blankets, clothes, backpacks, hygiene products etc. The part of the lake we meet is right next to the big amphitheater. The exact address is 512 E Washington St Orlando. This is the corner of Washington and Rosalind. Please try to arrive on time as…
Orlando Magic vs. Boston Celtics