At a recent What's Up Downtown, an event hosted by the Downtown Information Center, a map of Downtown Orlando (posted below) was shown that raised a few questions for the Bungalower team.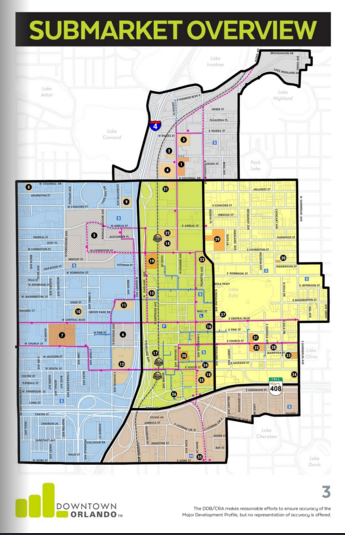 The district that caught our eye the most was the North District, formerly known as "Uptown". This district is primarily owned by three developers who have transformed a corner of the City into a slough of high-rise buildings and ground-floor restaurants.
If you went by the Ivanhoe Village Main Street map, the boundaries of the two districts meet at about the location of the small Statue of Liberty island by Lake Ivanhoe. Yet somehow, the official map, via the City of Orlando, has this small new-kid-on-the-block neighborhood intruding all the way up to Brookhaven Drive. We also find it interesting to note that this North Quarter map includes the Lake Highland Prep baseball fields and neighboring warehouses (the future home of the expanded Yard at Ivanhoe Village development, which you can read about HERE) but not the actual school itself.
We've written in to the City and the Downtown Orlando Information Center, but have yet to hear back with a concise explanation. We're assuming (a dangerous word, we know) that this must have been an effort to entice developers to that area before the school built the baseball field there.
Bungalower staff work closely with a number of neighborhood organizations and Main Street districts and we often hear complaints that arise from people reaching outside of their designated areas (which can be seen HERE). A handful having to do with misplaced painted electric boxes … others simply from residents believe they live in a certain neighborhood but then just down the street someone could be thinking they live somewhere entirely different. Don't even get us started on all of the misused Instagram hashtags.
Virginia Drive Live, a shopping event hosted by Ivanhoe Village, is meant to bring attention to their more ignored westerly businesses, yet their district ends at Haven Drive, where Mills 50 supposedly begins.
Thornton Park should, on paper, end at Central, where the South Eola District begins, but some maps have it extending all the way up to the University Club across from the library.
Downtown South is as sprawling and amorphous as it's name would suggest. We reached out to some board members for an explanation of the Main Street's reach and were told that really has no limits. The recently approved Downtown South Neighborhood Improvement District however has a clear boundary, which can be seen HERE.
In an effort to help draw some lines in the sand, we're currently working with a local company on a map based on the downtown bungalow neighborhoods but we would love to see some sort of crowd-sourced boundary map, like these ones by Bostonography (Website). People map out where they feel their districts end and begin, and the map compares that data with other users, like the one below.
If any of our readers would like to work with us on developing something like this, please reach out to us at [email protected] to discuss it further.