You're running out of time to find that perfect gift. We thought we'd pitch in by listing some of our favorite Orlando shops and items, just in time for the holidays.
Orlando Map Prints from Macbeth Photo
Price: $25
Screen printed by Mama Sauce, this five-color 18×24 map is a must for any Orlando lover.
$1 of every print is donated to Rethink Homelessness.
Click HERE to order yours.
City of Winter Park Peacock Trays
Click HERE for more information.
Price: $75-$100
Available only in person at City of Winter Park City Hall [GMap].
Each tray is handmade by Pastiche Home Market in Maitland.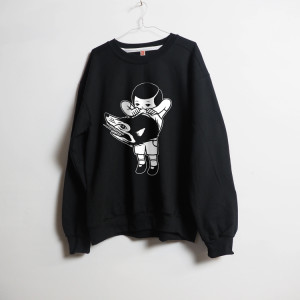 Wearable Boy Kong Art
Price: $32-$62
Rising art star, Boy Kong, has an online shop.
You're welcome.
The young artist has left a mark on the Orlando streetscape from Apopka to Bithlo. He's represented by a New York gallery and his work is in high demand. Get a piece of his while you can.
Click HERE to buy a Boy Kong original, that you can wear.
Orlando Bungalow Neighborhood Shirts 
Price: $18.99-$22.99
Our online shop is all about wearing your love of your neighborhood on your sleeve. We're always adding new designs to the shop so be sure to keep checking in.
Some upcoming "hoods" include Colonialtown, Coytown, and more.
Follow @orlandoshirts and @orlandobungalower to see them in action.
Original Art by Redefine Gallery Artists
Price: Varied
The small side-gallery in CityArts is arguably one of the best parts about the downtown arts venue. The space switches its featured artists each month, along with its host space, but manages to always stand out with is varied fresh material and funky ambiance.
The online shop has everything from amazing jackelope prints to Russian rat dolls.
Click HERE to fill up your basket.
Nerd Things from the Orlando Science Center
Price: Varied
The OSC expanded and moved their store as part of the upcoming $5M KidsTown development and we stopped by earlier in the year and fell in love with all of the quirky things that are available.
This is the perfect spot to go if you need some rubber dinosaurs or an astronaut suit.
You can also get a family membership for $155 which includes admission to the museum, discounts to the shop, and invites to special events. Click HERE for more information.
 Orlando Brewing Refillable Gallon Growler from Orlando Brewing
Price: $10
Forget recycling cans and bottles. Grab a refillable growler and fill it with your favorite local draft.
The bar will clean out your growler before filling it, but be sure to give it a little courtesy rinse before bringing it out in public.
It can cost anywhere between $20-$30 to fill the gallon growler.
Click HERE to order online, or go visit in person.
Orlando is Wonderful Car Magnet from The Daily City
Price: $5
Our friends over at TheDailyCity.com have been loving Orlando since before loving Orlando was cool.
Slap this magnet on your loved one's car so the whole world can see how much pride we have in our City.
Click HERE to order yours.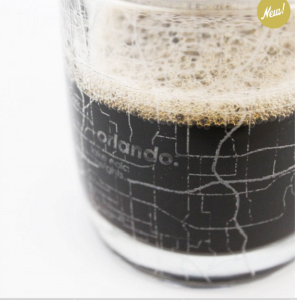 Orlando Map Coffee Mug from Cloak and Dapper
Price: $16.97
The Gentlemen's General Store in Ivanhoe Village is more than a haberdasher hot spot, it's also got some great housewares and kitcheny things. Like this Orlando map coffee mug.
Sip your morning cup o'joe from this 13 ox mug that sports the streets and neighborhoods of your favorite American city. It also comes in pint and rocks glasses.
Click HERE to order your own.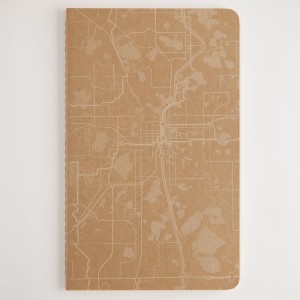 Laser-etched Neighborhood Maps on Notebooks
Price: $17
Local artist and tech wizard Nathan Selikoff's Local Notebooks are fast becoming the must-have Orlando prop.
Neighborhoods like Mills 50, College Park, and Winter Park have been lovingly etched on a series of tan and black notebooks.
Click HERE to purchase.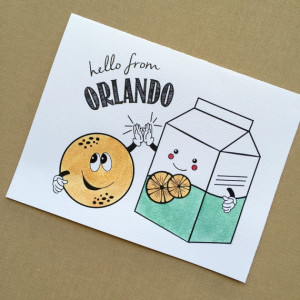 Hand-painted Cards from Bright Light Paper
Price: $4-$10
All of these adorable cards are hand-painted with watercolor and inked in by local artist Elizabeth Farmer.
The Etsy shop currently has more than 60 cards to choose from and a "buy three cards for $10" deal.
To see the shop, click HERE.
Catalog: Art for Rollins, Volume II from CFAM
Price: $30
This is a collection of works from a variety of artists that are represnted in the Alfond Collection of Contemporary Art, Cornell Fine Arts Museum, and Rollins College.
You'll have to stop by the CFAM museum shop in person to add this compilation to your library.
Taxidermy and "Wet Specimens" from Carmine Boutique
Price: Varied
Carmine Boutique on OBT has anything and everything you never knew you wanted … pickled octopus (like really a preserved octopus in a jar), dolphin skulls, steampunky jars and labels … anything you'd ever need to scare people away from breaking into your home when you're not there.
Air Plants in a Ceramic Toilet from HelloHappyPlants
Price: $22-$30
Everyone was exposed to the utility of air plants via the recent "glue a tilandsia on a metallic dinosaur" craze that swept up farmers markets and Pinterests this past year.
A local Orlando artist has stepped it up by making her own pop-cultural amorphous containers herself (you may have seen her at the recent Grandma Party Bazaar).
Choose from a wide variety of ceramic black Nokia phones, toilets, Tab cans and American Spirit cartons on the Etsy shop HERE.
Swan Lake Stroll Shower Curtain from SOS Art Gallery
Price: $65
SOS Art Gallery has a variety of products available with this picturesque shot of Lake Eola's Linton E Allen Memorial Fountain.
Immerse yourself in an Orlando icon, without having to actually step foot in any swan … "leavings."
Click HERE to get your own.
Orlando City Soccer Bean Bag Toss (Cornhole) Set
Price: $209.99
This handmade set of cornholes was made with cabinet-grade plywood.
This specific set is made in Utah so it's not really local, but we think any serious Orlandoan could appreciate them.
Click HERE to see the listing.
Raw Honey Sampler from Winter Park Honey
Price: $24.95
If you're like us and have a hard time choosing between blackberry, Tupelo, orange blossom, palmetto, or mountain gold, then this is for you.
Try six 2 oz samplers of honey and have them mailed directly to your door for no charge. That's right. Free shipping.
Click HERE to order.
Fancy Wrapping Sheets from Rifle Paper Co.
Price: $8.50
Homegrown design shop, Rifle Paper Co. is basically taking over the world. They're in shops like Anthropologie so you know they're cool.
Besides having a variety of gorgeous wallpapers, fabrics, and greeting cards, they also have some stand-out wrapping papers that will let your loved ones know you really do care about them. No more repurposed Olando Weekly papers for you mom!
Click HERE to get some.
Monthly Bungalower Bundle
Price: $9.95/month
For under $10 every month, Bundle subscribers get offers to cool, curated local businesses in their mail box. The offers always include a $10 gift certificate and at least three more deals, so you know you'll get your money back.
Click HERE to learn more about this great way to get out of your house and try something new in your neighborhood.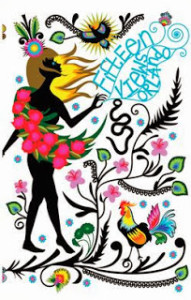 Local Books by Local Authors from Burrow Press
Price: Varied
Local independent publisher wunderkind Burrow Press has been fostering the Lit scene in Orlando for years. The least you could do is pick up one of their amazing books like Fifteen Views of Orlando (fifteen short stories about your favorite town).
Click HERE to buy yours. We suggest getting the bundle of books for $15.
 Brisket Scented Candle from 4Rivers Smokehouse
Price: $16.95
If you're shopping for that kind of person who weirds you out by smelling their fingers for hours after eating at a bbq joint. This is the perfect gift.
Each candle sports the aroma of brisket and hickory and lasts up to 17 hours.
You can purchase it HERE.