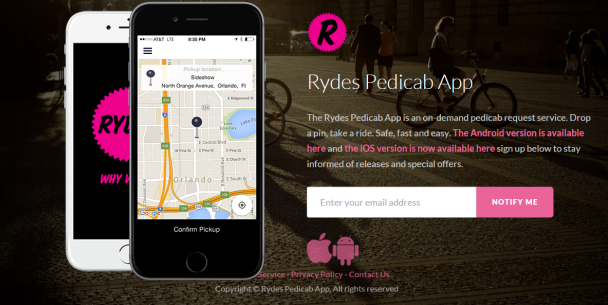 A local startup called Unicycle Technology will launch an app for on-demand pedicab services on December 18.
Rydes Pedicab App (Website), will be available for iOS and Android and will allow users to hail the nearest available pedicab driver and give an estimated fair amount based on the mileage to be covered during the ride. Published standardized fares for rickshaws have been an issue in the past.
Jeremy Martin, founder of Unicycle Technology, LLC, was inspired to develop the app while working as a pedicab driver in downtown Orlando. The app will also allow riders to pay via credit card and rate their drivers.
Orlando residents are invited to the launch of Rydes Pedicab App at 8 p.m. on Friday, Dec. 18 at Sideshow Bar & Grill at Wall Street Plaza, located at 15 N. Orange Ave. in Downtown Orlando [GMap]. Attendees will have the chance to win more than $1,000 in giveaways, including free bar tabs and pedicab ride vouchers through the app.
Unicycle Technology, LLC is a client company of the UCF Business Incubation Program in Orlando.
Visit rydespedicab.com for more information.