As part of our 2015 story roundup series we will be taking a look back at some of our favorite posts of the past year.
The following list is a collection of our top ten most read posts in the past year, in order of clicks.
"Will Knit For Food author knits himself out of homelessness" by Frank Flanagan
Gregory Patrick was in Berlin when the Berlin Wall was destroyed. He was seventeen years old. Originally from Savannah, Georgia, Gregory spent five of his later adolescent years in Germany. His father was a military man. Now in his early forties, Gregory has experienced more over the past few decades than most probably will in a lifetime. In recent years he has found stability, but it didn't come easy. Currently living in Orlando's Milk District, Gregory writes books and knits teddy bears to pay the bills. Will Knit for Food, Gregory's most recent book, chronicles his bouts with homelessness, and how he overcame them.
Click HERE to continue reading.
"Winter Park hosts Dive-In Movie"
Ditch the picnic blankets this Friday in favor of a fancy floaty and watch a blockbuster while floating in a pool.
The Winter Park Community Center in Hannibal Square [Gmap] is hosting the night with "food, fun, and swimming under the stars" for Winter Park residents. Non-residents can enjoy the night for 50 percent off the regular price of pool admission ($4).
Click HERE to continue reading.
"House of the Day: 303 Dubsdread Circle"
SPONSORED: You could own a piece of Orlando history. This two bedroom, one bath house is an incredible blend of Art Deco and Mid-Century Modern. Built in the 1940s by architect Hayward Shacklett for a prominent banking family, this house was also home to the brilliant and pioneering Brownie Wise, former VP of Tupperware Home Parties.
Click HERE to continue reading.
"OrlandoiX plans festival to bring 50,000 people to Orlando" by Sarah Elbadri
OrlandoiX, short for Orlando Interactive Experience, intends to showcase Orlando as a world-class hub for entertainment technology, interactive media, and digital arts. The festival will highlight some of the innovation and technology developed in Central Florida in areas such as gaming, simulation, interactive design, sound, and more.
Click HERE to continue reading.
"Tiny House for rent near College Park"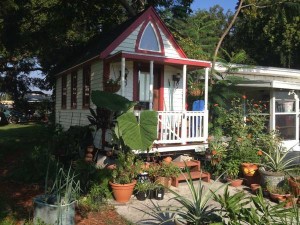 A tiny house just outside of College Park will be available for a renter in mid-February.
The 120 square foot house comes complete with bathroom, sleeping loft and a small kitchen. There is off-street parking and laundry on-site. Cats and dogs are allowed. Renters will have access to a boat dock for kayaking or paddle boarding, but smoking is not permitted.
Click HERE to continue reading.
"Project DTO releases final report and presents ideas to the City"
Consisting of 100 volunteers, Project DTO was a taskforce called upon to assess Downtown Olando's strengths and weaknesses and then recommend ways to improve our City. The volunteers came up with over 100 ways to do just that.
Click HERE to continue reading.
"Dillard's at Fashion Square Mall becoming a Clearance Center" by Sarah Elbadri
The department store is currently transitioning into a clearance center, a concept that is being tried at almost 20 other locations around the country.
The second floor has already closed. Almost all items in the store are marked at 65% off and large signs at the entrances alert customers that all sales are final.
Click HERE to continue reading.
"RV park to become tiny house community"
The RV park on Lake Fairview [Gmap] that hosts that same house is now embracing the tiny house lifestyle. With the help of a current resident, the property owner Adam Money, is looking to transition his RV park into a tiny home community.
Click HERE to continue reading.
"Downtown Orlando's 2015 Bucket List" by Sarah Elbadri
 SPONSORED: As you plan for the new year, make it a resolution to explore more of Orlando.
Here's a list of 15 things to do in Downtown Orlando for 2015.
Click HERE to see the list.
"Man shoots woman's dog in Winter Park"
 At approximately 8:30 p.m. Thursday night, the Winter Park Police Department were dispatched to Kenwood Avenue to investigate a possible shooting of a dog, just north of Park Avenue [GMap].
According to reports by witnesses, Lily, a 14-year old large white dog, was off-leash and approached a man who was out walking with his wife and corgi. When Lily got too close, the man pulled out a gun and opened fire.
Click HERE to continue reading.