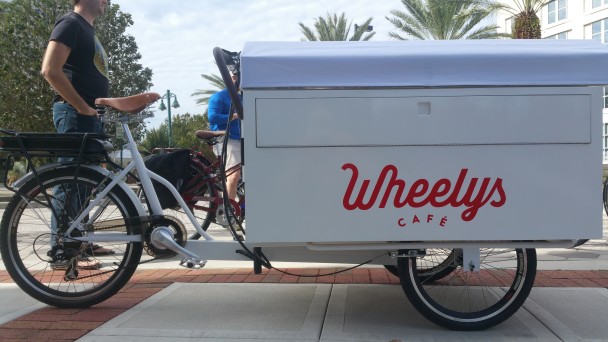 Orlando Tech's Executive Director is bringing another out-of-the-box opportunity to Downtown Orlando, this one coming in the form of a coffee shop on wheels.
Wheely's Orlando (Facebook | Website) is part of the Wheely's Coffee chain that successfully launched an Indiegogo campaign to fund a line of the coffee carts.
Funders could buy into the project with donations between $1,800 and $2,900.
Davis received his cart late last week and took it out for its first journey this past Saturday in Downtown South.
The cart has built-in refrigeration, sinks, and fold-out shelving, as well as a pop-up canopy and electric pedal assist to get the cart to where it is going.
Davis is still working on where the cart will be setting up shop and still has to get the proper permits from the City before being allowed to vend his wares.
Curiously, there are really only two permitting options that Wheely's can fall under – Food Truck or Hot Dog Cart.